Regals Tie for Ninth At Spring Opening PLNU Reach
CLU golfers consistent on course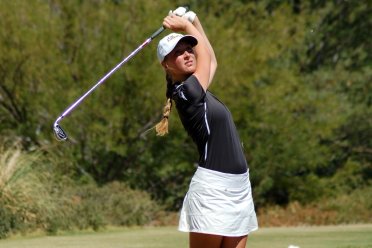 SAN DIEGO, Calif. – The spring season for the Cal Lutheran women's golf team got underway at the Point Loma Nazareth University Invitational on Monday and Tuesday, Feb. 6-7 at the Riverwalk Golf Course where the Regals tied for ninth in a competitive field of Division I, II, III and NAIA programs.
The course that golfers played was 6040 yards and a par 72. CLU combined to shoot a 665 (+89) to tie NAIA Biola and was just four strokes off Southern California Intercollegiate Athletic Conference (SCIAC) foe Redlands (661).
A four-way tie for 38th individually included a trio of Cal Lutheran players as Delaney Buck, Chloe Barnes and Ally Gaskill each shot a two-day total of 165 (+21). Both Buck and Barnes shot 83 on Monday and came back to post 82's on Tuesday while Gaskill opened with an 82 and shot an 83 today. Marissa McCardell was the final score for the Regals both rounds, carding an 84 and 86, respectively. Rounding out the CLU squad was junior Courtney Martin who recorded a total of 177 (87-90).
Over the 36 holes, Barnes and Buck each tallied 20 pars. Gaskill suited up for the Regals for the first time of her sophomore season after being sidelined in the fall.
The team title went to Cal Baptist by a huge margin after the group shot a 605 (+29). Cal State University, San Marcos was next in line with a 618. Individually, Erica Wang from Cal Baptist won by shooting an even 144.
Cal Lutheran will be back in action at the end of February when the Regals face league teams as a whole for the first time at the SCIAC No. 1 hosted by Whittier at the San Dimas Golf Course on Saturday and Sunday. Feb. 25-26.
Results: Point Loma Invitational
CLU Instagram: http://instagram.com/clusports#
W Golf Instagram: http://instagram.com/clu_golf/
CLU Twitter: https://twitter.com/clusports
W Golf Twitter: https://twitter.com/CLUGolf
CLU Facebook: https://www.facebook.com/clusports
Hashtags: #clusports #ownthethrone #gokingsmen #theSCIAC #ncaad3 #purplepit