Regals Set to Swing Into Season
CLU even mix of returners and incoming players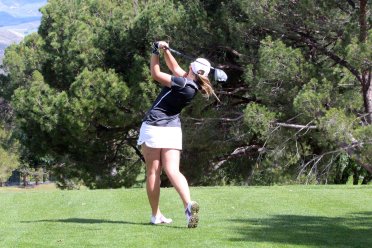 THOUSAND OAKS, Calif. – The Cal Lutheran women's golf team will field its largest team since the inception of the program in 2012 during the 2016-17 season. Three returning Regals will be joined by six talented incoming student-athletes.
A young team will look to leadership from junior Courtney Martin who is the only upperclassman on the roster this spring. She has spent two seasons improving her game and during the 2015-16 season she finished in a tie for the second lowest stroke average on the squad, shooting an 84.72 over 18 rounds of play. Her best 18-hole score of the season was a 76, which came at the Hal Sutton Intercollegiate.
In her first season at CLU, Ally Gaskill averaged an 86.18 in her 17 rounds of action and shot a season-low score of 77 at the Claremont-Mudd-Scripps Invitational in the fall of 2015. Also competing for the Regals in 2015-16 for the first time was Lauren Fesler who saved her best for last, using 82 swings at the SCIAC Championships to finish averaging a 90.22 through 18 rounds.
Competing in the collegiate ranks for the 2016-17 campaign are a half a dozen student-athletes who will vie for playing time. The group hails from three different states with Chloe Barnes (West Linn, Ore.), Delaney Buck (Scottsdale, Ariz.), Karlie Lemon (Thousand Oaks, Calif.), Marissa McCardell (Clovis, Calif.), Erica Mitchell (Vista, Calif.) and Hannah Pasco (Happy Valley, Ore.) all suiting up in Violet and Gold.
With a lot of new faces, the goal remains the same as in years past, which is to be competitive and challenge for a Southern California Intercollegiate Athletic Conference (SCIAC) title and trip to the NCAA Division III National Championships.
"Even though we have a lot of freshmen on the roster, they are coming in with a lot of tournament experience," head coach Jeff Lindgren said. "They are committed to each other, will work hard and are determined to improve."
When asked what he was most excited about, coach Lindgren shared, "After a long off season, I am always looking forward to the start of another season," he went on, "We have great courses to practice and play on and a great tournament schedule. We have a very young team and I am very excited about the team and all the opportunities we will have to compete."
The competition field will be spread out with everything from Division II and III opponents to tough NAIA programs this spring. CLU will face a number of Top-20 teams and will attend two new events as well as various tournaments and invitationals that the returning Regals have played in previously.
Cal Lutheran opens the spring portion of its 2016-17 season at 7:30 a.m. on Monday, Feb. 6 for the two-day Point Loma Invitational at the Riverwalk Golf Course in San Diego, Calif. CLU will host the Fourth Annual Cal Lutheran Invitational with eight Division III programs from across the country on Mar. 13-14 at the Sunset Hills Golf Course.
Roster: 2017 Regals
Schedule: 2017 Women's Golf
CLU Instagram: http://instagram.com/clusports#
W Golf Instagram: http://instagram.com/clu_golf/
CLU Twitter: https://twitter.com/clusports
W Golf Twitter: https://twitter.com/CLUGolf
CLU Facebook: https://www.facebook.com/clusports
Hashtags: #clusports #ownthethrone #goregals #theSCIAC #ncaad3 #purplepit