Regals Take Fifth in Texas
Barnes ties for fourth overall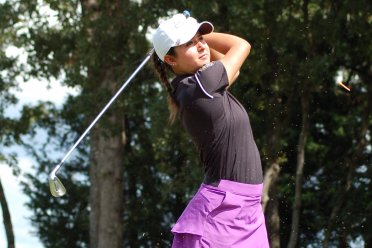 TYLER, Texas – The Cal Lutheran women's golf team competed at the Al Jones Memorial Invitational on Monday and Tuesday and placed fifth overall after posting a total team score of 663 at Cascades Golf Club.
Day One: On the first day of action, the Regals shot a 325 and sat in third place. Chloe Barnes led the Violet and Gold, continuing her strong play with a low-round of 75 to lead all players. Marissa McCardell was close behind with a 77 on day one. Rounding out the competition on Monday for the Regals was Solveig Christenson (85), Hannah Pasco (88) and Erica Mitchell (91).
Day Two: On Tuesday morning, CLU combined to shoot a 338 and finished with a 36-hole total of 663. Barnes led the Regals once again with an 83, finishing with a 158 overall to tie for fourth. McCardell carded an 84 to tie for 13th overall. Christenson stayed consistent, firing another 85 in round two while Pasco and Mitchell improved by two strokes apiece, with rounds of 86 and 89, respectively.
Notables: Host UT Tyler won the tournament with a team tally of 635 and Concordia (Texas) placed second with a score of 651. Southwestern finished third with a 653 and UT Dallas took fourth, just one stroke ahead of CLU at 662. Individually, Jessica Varner of Centenary College placed first with a 36-hole total of 151 after rounds of 77 and 74.

Release: Cal Lutheran – 5th
CLU Twitter: https://twitter.com/clusports
CLU Facebook: https://www.facebook.com/clusports
CLU Instagram: http://instagram.com/clusports#