Regals Finish Fifth at Cal State Intercollegiate
Five freshmen compete for CLU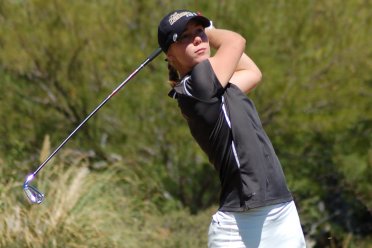 HEMET, Calif. – In the first tournament of the fall season, the Cal Lutheran women's golf team debuted five freshmen on the course as they placed fifth overall at the California State Intercollegiate held at Diamond Valley Golf Club on Monday and Tuesday. The Regals began competition with a team score of 314 (+26) on Monday followed by a 329 (+41) in the rain on Tuesday to finish with an overall score of 643 (+67).
Day One: Marissa McCardell began her Regals career with a round of 77 (+5) to pace the Violet and Gold while Chloe Barnes carded a 78 (+6). Right behind her was Solveig Christenson at 79 (+7), Hanna Pasco at 80 and Delaney Buck with an 83.
Day Two: Battling rainy weather on Tuesday morning, Barnes was the lone Regal to improve her score, shooting a 75 to finish in a tie for eighth overall with a 36-hole score of 153 (+9). McCardell was consistent, tallying a second round 78 to finish at 155 (+11) for 12th place. Rounding out the freshmen five were Christenson (167), Pasco (168) and Buck (175).
Notables: Barnes, McCardell, Christenson, Pasco and Buck all made their CLU debuts in the tournament. George Fox placed first overall with a score of 599 (+23) and Embry Riddle placed second with a total of 610 (+34). Southern California Intercollegiate Athletic Conference (SCIAC) opponents, Whittier (635) and Pomona-Pitzer (642), placed third and fourth, respectively.
Next Up: Cal Lutheran will head to Bullard, Texas next Monday and Tuesday, Sept. 26-27 for the UT Tyler Invitational at Cascades Golf Course.

Release: Cal Lutheran – 5th
CLU Twitter: https://twitter.com/clusports
CLU Facebook: https://www.facebook.com/clusports
CLU Instagram: http://instagram.com/clusports#