Regals Compete in Final Conference Competition
Sarah Parsons leads CLU with 27:01.42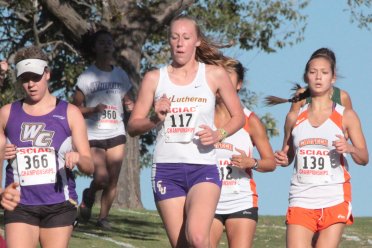 CHINO, Calif. – Saturday marked the conclusion of the 2016 Southern California Intercollegiate Athletic Conference (SCIAC) season as the Cal Lutheran women's cross country team raced the course at Prado Park in Chino Hills, Calif. Sarah Parsons paced CLU, clocking in at 27:01.42. Erin MacNeil raced the course for her first time and finished second for the Violet and Gold, coming in shortly after with a time of 27:20.14.
Erin Knight finished third for the Regals with a time of 28:06.52.
Also racing for Cal Lutheran on Saturday were Kylie Rodriguez (29:40.32), Nicole Schedler (29:52.53), Rachel Ereso (29:55.95) and Lauren Chrislu (33:13.02)
"The Regals showed a lot of heart today on the course and every single person fought for every spot," said assistant coach Brett Halvaks. "I am looking forward to two more weeks of great training and can't wait to see how we perform at the Division III NCAA West Regionals."
Maya Weigel from Pomona-Pitzer was awarded the SCIAC individual title for the second consecutive year after navigating the course in 22:39.04.
Claremont-Mudd-Scripps posted team average of 23:48.89, taking home the first place title for the seventh consecutive year. Pomona-Pitzer finished second, with a team average time of 24:28.16, and Occidental came in third place with a team average time of 24:53.76.
Cal Lutheran will head to Salem, Ore. on Nov. 12 to compete in the NCAA Div. III West Regionals, hosted by Willamette.
Results: CLU - 9th
CLU Instagram: http://instagram.com/clusports#
CLU Twitter: https://twitter.com/clusports
CLU Facebook: https://www.facebook.com/clusports