Regals Race at Pomona-Pitzer Invitational
CLU finishes with an average time of 26:13.40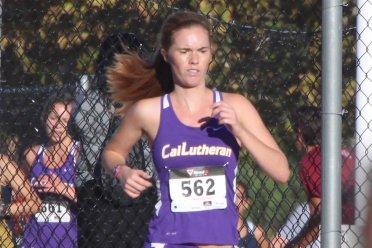 CLAREMONT, Calif. – The Cal Lutheran women's cross country team traveled to Claremont, Calif. to race in non-conference competition at the Pomona-Pitzer Invitational and finished the 6K with an average time of 26:13.40. The field consisted of NAIA, NCAA Div. II and NCAA Div. III schools. In head-to-head matchups, CLU defeated Marymount College.
The Regals were paced by freshman Erin MacNeil who finished with a 24:06.48 to finish 36th overall in a field of 140. Erin Knight finished second for CLU with a final time of 26:04.05, eclipsing her previous race time by over 20 seconds. Sarah Parsons was close behind, crossing the line at 26:16.06, finishing third for the Violet and Gold.
Also competing for Cal Lutheran were Rachel Ereso (26:34.92), Kylie Rodriguez (28:05.48), Nicole Schedler (28:24.54), Lauren Chrislu (30:00.76), and Madison Schmader (30:02.72).
Cal Lutheran will return to the course on Saturday, Oct. 29 at 9:45 a.m. in Chino Hills, Calif. to compete in the SCIAC Championships.
Results: Pomona-Pitzer Invitational
CLU Instagram: http://instagram.com/clusports#
CLU Twitter: https://twitter.com/clusports
CLU Facebook: https://www.facebook.com/clusports