Regals Compete at SCIAC Multi-Duals
MacNeil leads CLU for second consecutive race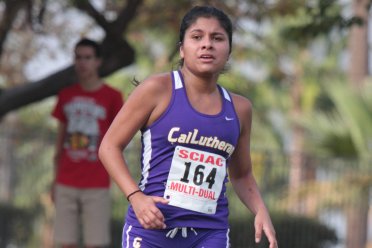 LA MIRADA, Calif. – On a warm Saturday morning the Cal Lutheran women's cross country team toed the line to compete in their first Southern California Intercollegiate Athletic Conference meet of the year and finished the 6K with a team average of 26:07.70. In head-to-head matchups, the Regals prevailed over La Verne. Freshman Erin MacNeil led the Violet and Gold for the second straight meet with a time of 24:28.04.
Sarah Parsons finished second for CLU, posting a time of 25:47.76. Rachel Ereso finished just after with a time of 25:54.76. Erin Knight completed the course in 26:25.31.
Also racing for the Regals were Kylie Rodriguez (28:02.63), Nicole Schedler (28.17.76), and Madison Schmader (29:18.92).
Cal Lutheran will be back in action on Saturday, Oct. 15 at 8:30 a.m. when they head to Claremont, Calif. to compete in the Pomona-Pitzer Invitational.
Results: CLU – 7th
CLU Instagram: http://instagram.com/clusports#
CLU Twitter: https://twitter.com/clusports
CLU Facebook: https://www.facebook.com/clusports