Regals Compete at UCR Invitational
MacNeil leads CLU with a time of 19:58.6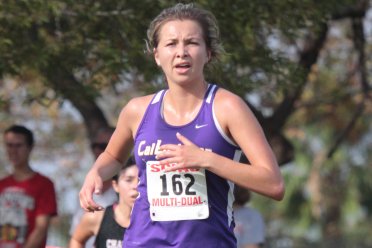 RIVERSIDE, Calif. – The Cal Lutheran women's cross country team competed in the UC Riverside Invitational this Saturday and finished the 5K course with an average time of 21:11.53.

Erin MacNeil was the top finisher for the CLU, posting a career-best in the 5K with a time of 19:58.60, while Sarah Parsons finished second for the Regals with a time of 20:25.10.
Also racing for CLU were Rachel Ereso (21:07.60), Erin Knight (21:39.30), Kylie Rodriguez (22:47.30), Lauren Chrislu (23:25.40), Nicole Schedler (23:44.80),
The Regals will return to the course on Saturday, Oct. 1 at the Southern California Intercollegiate Athletic Conference (SCIAC) Multi-Duals, which will take place in La Mirada, Calif.
Results: UC Riverside Invitiational
CLU Instagram: http://instagram.com/clusports#
CLU Twitter: https://twitter.com/clusports
CLU Facebook: https://www.facebook.com/clusports