Regals Run at Biola Invitational
CLU averages a 27:16.33 in the 5K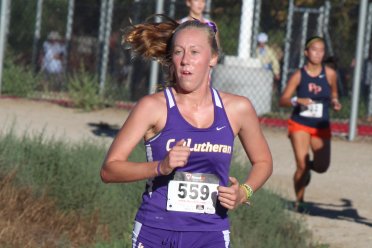 LA MIRADA, Calif. – The Cal Lutheran women's cross country team opened the season at the Biola Invitational on Saturday afternoon at Craig Regional Park and finished 14th overall after eight Regals ran a combined average time of 27:16.33 in the 5K.
Sarah Parsons began her senior season on a high note with a career-best time of 19:29.82 to lead CLU while keeping a pace of 6:16.60 per mile.

Freshman Erin MacNeil made her debut for the Violet and Gold and finished right behind Parsons with a time of 19:42.99 and an average mile time of 6:20.80.

Also making their CLU debuts in the meet were Rachel Ereso (21:04.26), Nicole Schedler (23:24.51) and Madison Schmader (23:49.29).

The returning sophomore duo of Erin Knight and Kylie Rodriguez finished with times of 21:14.91 and 22:26.45, respectively, while senior tri-sport athlete Lauren Chrislu clocked in at 22:42.80, setting a personal best by over two minutes.
The Regals return to the course next Saturday, Sept. 17 at the UC Riverside Invitational with a 7:30 a.m. scheduled start.

Results: Biola Invitational
CLU Twitter: https://twitter.com/clusports
CLU Facebook: https://www.facebook.com/clusports
CLU Instagram: http://instagram.com/clusports#