Regals Runners Return to Course for 2016
Dozen to field women's cross country team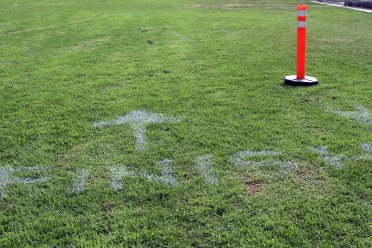 THOUSAND OAKS, Calif. – A dozen Regals will toe the start line during the 2016 women's cross country season at Cal Lutheran. The fall roster is a combination of six returning and as many incoming student-athletes who are focused on climbing the Southern California Intercollegiate Athletic Conference (SCIAC) standings to a higher finish than the program has experienced in previous years.
Competing without team captain Sarah Girgis, who is currently battling a rare form of sarcoma cancer, the leadership roles will shift to seniors Lauren Chrislu and Sarah Parsons. Parsons enjoyed a breakout junior campaign in which she led the way for CLU in every race, finishing with a 6K average time of 24:30.36. Chrislu (30:24.92), a three-sport student-athlete for the Violet and Gold, will suit up for her final cross country races this season.
Also back on the course for Cal Lutheran are junior Katie Young (26:29.60), who brings loads of experience, and sophomores Erin Knight (25:44.31) and Kylie Rodriguez (27:27.43) who each have a year of collegiate competition under her belt and will contribute to the team.
After running for the Regals in three races as a freshman, Kaela Lichstein will return to action as a senior. In her only season of competition, she averaged a time of 24:15.49 in 5K races before hanging up her shoes. Finally, Brooke Stanley adds cross country to her resume after running the 800m and competing in the High Jump for the women's track and field team in 2016.
Joining the collegiate ranks for the first time are freshmen Rachel Ereso (Encinitas, Calif.) and Erin MacNeil (Oceanside, Calif.). Also donning Cal Lutheran colors for the first time this fall are sophomore Nicole Schedler (Fair Oaks, Calif.), junior Stephanie Allen and senior Madison Schmader (UCLA).
The 2016 season starts for the Regals this Saturday, Sept. 10 at the Biola Invitational with a scheduled start time of 8:45 a.m.
Roster: 2016 Women's Cross Country
Schedule: 2016 Schedule
CLU Instagram: http://instagram.com/clusports#
Cross Country Instagram: http://instagram.com/clu_cross_country/
CLU Twitter: https://twitter.com/clusports
Cross Country Twitter: https://twitter.com/CLUCrossCountry
CLU Facebook: https://www.facebook.com/clusports
Hashtags: #clusports #ownthethrone #goregals