Cal Lutheran Outlasts Occidental in Conference Tournament Semis
Whitley provides game-winning basket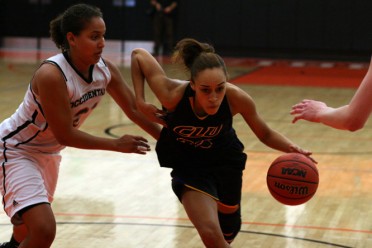 LOS ANGELES, Calif. - Erica Whitley scored the game-winning basket with :01.7 seconds left to give Cal Lutheran a 51-49 win in the SCIAC Post-Season Tournament semifinals. The Regals will be on the road Saturday, Feb. 25, to face Redlands in the finals.

Box Score: CLU 51, OXY 49 - F

Whitley finished her big night with 21 points and 10 rebounds, but none bigger came than on the game-winning lay-up on CLU's final possession.



She scored the Regals final 11 points and stemmed the Tigers tide after relinquishing a sizeable advantage.

After Cal Lutheran surrendered an early 15-point second half lead it was Occidental who seized momentum and looked to close out the game. The Tigers took a 49-44 lead late in the game but the Regals defense regained control and held OXY scoreless the rest of the way.

CLU's Whitley and OXY's Makenzie Brandon willed their respective teams in Thursday night's playoff battle. Brandon finished with 23 points and 10 rebounds, and played all 40 minutes while the Tigers struggled to find their offensive rhythm.

Cal Lutheran's defense focused its efforts on limiting Brandon's scoring chances and forcing Occidental to score from outside. In the first half the Regals executed their strategy holding Brandon to just nine points while building a 28-19 halftime lead.

Three major scoring runs closed out the opening half of play with the Regals finishing off the period scoring seven unanswered. After Cal Lutheran connected on just 2-of-13 first half 3-pointers, a pair of early second half triples from Chelsey Hastigan gave the Regals their largest lead of the game 34-19 with 18:25 left.

Brandon and company chipped away at the deficit and the Occidental defense held Cal Lutheran scoreless for nearly a seven minute stretch to eventually pull even and take the lead. Liz Little converted an and-one opportunity that put the Tigers up 49-44 with 2:30 left in regulation.

In the final minute of play it was Whitley's time to shine. She made a pair of free throws to tie the game with 58 seconds left in regulation. After a defensive stand the Regals gained possession and called timeout with 30 seconds remaining.

Whitley ran down the clock to under 10 seconds, drove from half court and laid it up off the glass for victory. The bucket gives Cal Lutheran its first road win over Occidental since 2006 and the program's first SCIAC Tournament win in three appearances.

Cal Lutheran (17-9) will be on the road Saturday, Feb. 25, at Redlands (19-7) in the SCIAC Post-Season Tournament finals.