Division III Week Feature: Katy Lindor
Basketball senior set to give back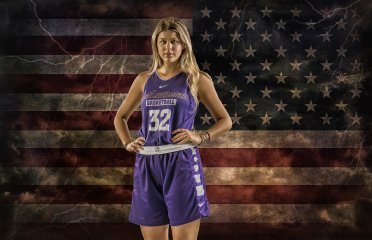 THOUSAND OAKS, Calif. – The California sunshine was a huge plus for senior Katy Lindor when she made her decision to play basketball for Cal Lutheran, but the small campus community was the deciding factor for the North Bend, Wash. native.
"The interconnectedness of a Division III school was one of the biggest draws in choosing a small school like Cal Lutheran," said Lindor. "I also wanted to continue my basketball career without having to sacrifice my studies and there were several options for doing both at the DIII level."
Lindor shared that the struggles and juggling acts that she went through as a student-athlete have only made her appreciate her time a Cal Lutheran that much more. She also said her sacrifices on and off the court have shaped her college experience and she would not trade it for anything.
"I cannot imagine my college experience without the balance of being a student-athlete and although there were sacrifices made, I consider it such a privilege to be able to do both" she continued, "My experience as a student-athlete at Cal Lutheran has definitely stretched and challenged me, yet has turned out to be one of the greatest blessings in my life."
Lindor spoke to the relationship between the coaches and professors, saying, "Having coaches that supported my professors and vice versa made a huge difference in my success in the classroom and on the court. I have cried with professors over injuries and shared classroom material with my coaches."
Beyond the classroom and basketball court, Lindor has immersed herself in the campus community, specifically the Department of Athletics.
"I work in the athletics offices, which has been such a blessing for me, not only because it works with my basketball schedule, but also relationally. Being around the coaches, trainers and administrators every day is something I cherish and am so grateful for," she finished, "Everyone is extremely supportive and genuinely cares about each other and I do not take that for granted."
In addition to her paid-job, Lindor has done extensive work with the disabled and those struggling with childhood illness both locally and in her home state. With a passion for kids with special needs, she has worked with the Special Olympics, a Division III affiliate, on numerous occasions.
Additionally, when Lindor, a communication major with an emphasis in advertising and public relations and a minor in psychology, is off the court in the summer she is motivated to give back. She has spent time during her summer break at Camp Agape, a camp that allows children with cancer and their families to enjoy a week away from treatment. This is a time for the children to get back to their normal lives and give love and support to the families. At Camp Agape, Lindor works as a one-on-one counselor, mainly interacting with either a child battling cancer or one of their siblings and has cultivated relationships with the families, staying in touch with many.
"The willingness of a family experiencing life with a child who has cancer to open up and let me in on their story is really special," said Lindor. "It has changed my perspective on life and definitely the appreciation for my student-athlete experience."
Lindor, a guard for the Regals, has expressed that her time at Camp Agape has inspired her to further pursue a career at a non-profit organization, such as Make-A-Wish, after graduation.
Although Lindor said that Camp Agape is hands down one of her favorite weeks of the year, her time as a Cal Lutheran student-athlete is a close second and she has her teammates to thank for that.
"The memories that will last from being a student-athlete start and end with my teammates," she shared, "They are the ones that are sweating with you on the court, but also sitting next to you in your 8:00 am class the next day after and unexpected loss."
The bond that she has created with her teammates on long bus rides, early morning weight sessions and being around each other so much is unforgettable and going to be one of the hardest things she will have to leave behind once she graduates this spring.
Website: Division III Week
CLU Twitter: https://twitter.com/clusports
CLU Facebook: https://www.facebook.com/clusports
CLU Instagram: http://instagram.com/clusports#
Hashtags: #ownthethrone, #clusports, #gokingsmen #goregals, #purplepit #whyD3 #NCAAD3 #D3week