Regals Travel to Chapman for SCIAC Postseason Tournament Semifinals
CLU to face Chapman in SCIAC PST Semifinal for fourth straight year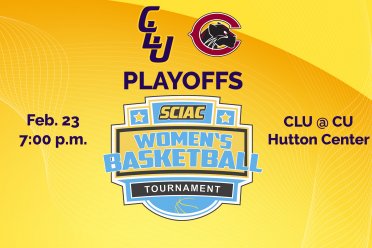 THOUSAND OAKS, Calif. – For the fourth consecutive season, the Cal Lutheran women's basketball team will square off against Chapman in the Southern California Intercollegiate Athletic Conference (SCIAC) Postseason Tournament Semifinals. The Regals (16-9, 12-4 SCIAC) locked up the No. 3 seed and will travel to the No. 2 seeded Panthers (16-9, 13-3 SCIAC) this Thursday, Feb. 23 at 7:00 p.m. inside the Hutton Center.
CLU is 2-1 against Chapman in semifinal matchups over the past three seasons and defeated the Panthers 72-56 on the road last season to advance to its second straight tournament championship. In two meetings this year, Chapman defeated the Regals on both occasions, upsetting CLU 70-68 inside Gilbert Arena before topping the Violet and Gold 70-58 at home.
Both CLU and Chapman are tied for the league lead with an average of 70.4 points per game and the Regals lead the SCIAC in field goal percentage at 42.6 percent while the Panthers lead the league in three-point percentage at 34.1 percent. CLU, however, leads the conference in three-pointers made with 187 and is shooting 32.8 percent.
Jessica Salottolo leads the Regals offense with an average of 14.0 points per game, including a 14.9 points per game average against conference competition, which ranks third overall in the SCIAC. The senior guard has scored in double-figures 19 times this season and is shooting an efficient 50.4 percent from the field and 36.2 percent from three-point range. Salottolo also leads the team on the defensive end with an average of 1.5 steals per game. Haley Hodgson is a constant double-double threat for the Regals and leads the conference with 9.1 rebounds per game against SCIAC opponents. The Cypress, Calif. native recorded a 10-point, 14-rebound double-double against the Panthers earlier this season and is third on the team with an average of 9.2 points per game. Tatiana Dunlap was second on the team, averaging 10.5 points per game, before being sidelined with an injury. Playmaker Sofia Cruz leads the team with an average of 3.4 assists per game, while ranking second in the conference in the category, to go with 8.6 points per game in SCIAC play. Another offensive threat for the Regals is Janelle Porter, who has enjoyed a breakout season as a senior, averaging 9.9 points per game and is one of the top three-point shooters in the SCIAC at 39.1 percent from behind the arc. Point guard Grace Derksen is another three-point threat for CLU and is one of just three Regals to average at least one made three per game.
Chapman has a quartet of players averaging double-figures, led by senior Megan Charles at 14.2 points per game. Senior Lauren Sato follows with a 12.6 points per game average along with Jaime Hum-Nishikado at 11.5 and Jaryn Fajardo at 10.4. Hum-Nishikado leads the SCIAC with 63 made three-pointers this season for an average of 2.6 per game while Sato is third with 47 makes. Additionally, Hum-Nishikado is a perfect 30-for-30 from the free-throw line and Fajardo leads the conference with 4.7 assists per game. In the first matchup against the Regals, Charles went off for 25 points while Fajardo added a 14-point, 10-rebound double-double.
In the other semifinal matchup, No. 1 seed Claremont-Mudd-Scripps (17-8, 13-3 SCIAC) will host No. 4 seed Redlands (14-11, 11-5 SCIAC) inside Roberts Pavilion. The winner of both semifinal games will play at the site of the highest seed remaining with a time to be determined on Saturday, Feb. 25. The winner of the tournament final earns an automatic bid into the 2017 NCAA Division III Women's Basketball Tournament.
Video and Live Stats will be available for the game and tickets will be sold at the entrance. Children under the age of 12 as well as students, faculty and staff with ID will receive free admittance. Tickets for seniors (55 and older) and veterans will be $5 while admission for all others is $10.
Tournament Central: 2017 SCIAC Women's Basketball Tournament
Video: Cal Lutheran at Chapman
CLU Instagram: http://instagram.com/clusports#
W Basketball Instagram: http://instagram.com/regals_basketball/
CLU Twitter: https://twitter.com/clusports
W Basketball Twitter: https://twitter.com/CLUwBasketball
CLU Facebook: https://www.facebook.com/clusports
W Basketball Facebook: https://www.facebook.com/cluwomensbasketball