Sweet Senior Night for Regals
CLU places third in SCIAC standings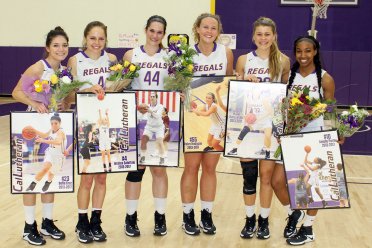 THOUSAND OAKS, Calif. – On the final night of the Southern California Intercollegiate Athletic Conference (SCIAC) regular season, six seniors were recognized prior to tip-off and the Regals had a night to remember as the Cal Lutheran women's basketball team took down Caltech 85-57 inside of the Gilbert Arena in the final home game of the season.
A festive evening started with Sofia Cruz, Haley Hodgson, Katy Lindor, Taylor Messick, Janelle Porter and Jessica Salottolo all being honored for her contributions to the program and university over the last four years in which the group has advanced to four SCIAC Postseason Tournaments.
Once action on the hardwood got underway, the focus turned to basketball and the Regals were hot from the get-go. CLU opened a 24-8 lead after the first frame highlighted by a layup at the buzzer from Cruz after Grace Derksen grabbed an offensive rebound and dished out an assist. CLU shot 47.8 percent from the floor in the opening quarter. By halftime, Cal Lutheran had doubled up Caltech, 44-22, to sit in a comfortable spot.
Out of the locker rooms, Lindor knocked down a three-pointer on a second chance to start the second half and scored again on the next Violet and Gold possession as the Regals continued to execute and play well at both ends of the court, cruising to the final buzzer.
Overall, Cal Lutheran shot 42.5 percent, but more notably, the Regals notched a season-high 15 three-pointers on 39 shots (38.5 percent), which was another season-most. Kiana Gray led the way with a 5-for-6 showing from behind the arc and seven other players hit at least one. Janelle Porter went 3-for-6 and Derksen tallied a pair.
In her final home appearance with family and friends in the stands, Porter posted a team-leading 16 points, followed by 15 from Gray and 10 from Derksen. Cruz nearly moved into the CLU career top-10 and with three assists tonight is one shy of achieving that. Salottolo handed out a team-high five assists and Porter passed for four while Derksen matched Cruz with three.
Defensively, Makenna Murray came down with nine rebounds to lead all players and Porter pulled down five. In all, 12 different players finished with at least one. Hodgson earned three steals and both Hodgson and Gray recorded a block.
Caltech (4-21, 2-14 SCIAC) was led by a game-high 17 points from senior Kate Lewis in her final collegiate game while Elizabeth Eiden equaled the nine rebounds that Murray grabbed.
As the regular season came to a close the Postseason Tournament field is set. Claremont-Mudd-Scripps and Chapman share the league title with 13-3 records while Cal Lutheran places third with a 12-4 mark and Redlands rounds out the Top-4 with an 11-5 showing.
With a clean slate for everyone it is now a win-or-go-home setting as the aforementioned teams play for the conference's automatic berth to the NCAA Division III Tournament in early March.
Cal Lutheran (16-9, 12-4) travels to Chapman on Thursday, Feb. 23 for the semifinals with tip-off slated for 7:00 p.m.
Box Score: CLU 85, CIT 57
CLU Instagram: http://instagram.com/clusports#
W Basketball Instagram: http://instagram.com/regals_basketball/
CLU Twitter: https://twitter.com/clusports
W Basketball Twitter: https://twitter.com/CLUwBasketball
CLU Facebook: https://www.facebook.com/clusports
W Basketball Facebook: https://www.facebook.com/cluwomensbasketball