Regals Earn Largest Winning Differential of Season
CLU rebounds with win over Leopards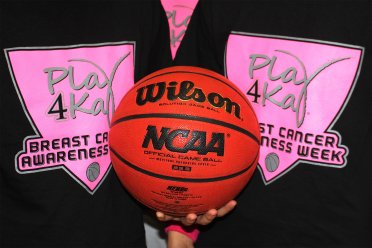 THOUSAND OAKS, Calif. – After an overtime heartbreaker on the road in Southern California Intercollegiate Athletic Conference (SCIAC) play on Wednesday, the Cal Lutheran women's basketball team returned to the Gilbert Arena for the first of two consecutive home games, earning a convincing 85-48 victory over La Verne today with its biggest margin of victory on the season.
A dry spell from three-point range ended with the first bucket of the game from Sofia Cruz as the home team opened a 16-10 first quarter lead. In the second stanza CLU took the reins, seemingly scoring at will while holding LV at bay defensively. After doubling up the Leopards 24-12, Jessica Salottolo capped off a steal with a fast break layup to force a La Verne timeout with seven and a half to play in the opening half. The Regals never backed down and with under two ticks to play, Salottolo inbounded the ball off an opponent and banked a three-pointer before converting the and-one for a four-point play to close out the period and first 20 minutes of action with a 46-19 advantage. CLU outscored LV 30-9 in the second quarter to create a comfortable differential.
Cal Lutheran shot 54.5 percent in the first half, connecting for 58.3 percent from long range, going a combined 7-for-12 with Makenna Murray hitting a pair in as many shots and Salottolo also knocking down two.
While things were closer in both the third and fourth quarters, the early lead that the Regals built was instrumental. No one scored in the first two minutes of the third period, but things turned around and the teams combined for 36 points with the Regals edging the Leopards 20-16. In the final frame, the Violet and Gold continued to produce offensively, outscoring La Verne 19-13 to clinch the victory. CLU shot an even 50 percent from the floor in the final half.
Overall, Cal Lutheran finished shooting at a clip of 52.3 percent with a 48 percent (12-for-25) showing from behind the arc. Salottolo led the home team with 19 points with Murray and Natalie Ruhl scoring 13 and 11, respectively. Eleven different players put in a bucket today. The 18 assists came from nine different players as Ruhl and Grace Derksen shared the game-high with three each.
Defensively, CLU out rebounded LV 38-19 and grabbed 15 offensive boards. Haley Hodgson led all players with eight rebounds and Ruhl and Taylor Messick each finished with five. Cruzcame up with a game-leading four steals while Derksen, Salottolo and Janelle Porter pulled away a pair apiece. Additionally, Derksen and Porter both recorded a block.
La Verne (3-21, 3-12) was led by a game-best 24 points from Noelle Cobb as the only Leopards player to reach double figures. Alexa Withers paced the pack with four rebounds and three assists.
Laden with pink in the form of shoe laces, socks, wristbands, headbands and warmup shirts, CLU hosted its annual Play 4 Kay Breast Cancer Awareness Night, raising funds for the Kay Yow Foundation. All proceeds raised today will be combined with the other eight institutions from the conference and one lump sum will be donated by the league.
Cal Lutheran (15-9, 11-4) closes out its regular season on Tuesday with a 5:30 p.m. tip-off against Caltech on Senior Night. The six graduating players will be honored prior to the game.
Box Score: CLU 85, LV 48
CLU Instagram: http://instagram.com/clusports#
W Basketball Instagram: http://instagram.com/regals_basketball/
CLU Twitter: https://twitter.com/clusports
W Basketball Twitter: https://twitter.com/CLUwBasketball
CLU Facebook: https://www.facebook.com/clusports
W Basketball Facebook: https://www.facebook.com/cluwomensbasketball