Athenas, Regals Battle to Overtime
CLU drops first OT contest of season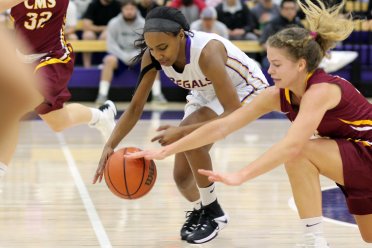 CLAREMONT, Calif. – In what was anticipated to be a close Southern California Intercollegiate Athletic Conference (SCIAC) game between two evenly matched teams, Cal Lutheran and Claremont-Mudd-Scripps did not disappoint, needing overtime to determine a winner as the Athenas defeated the Regals 63-58 tonight.
CMS opened with a 9-0 run and after trailing 19-14 after the first quarter, the Regals chipped away and tied things up at 27-27 when Haley Hodgson knocked down a pair of free-throws with 3:40 to play in the second period. Katy Lindor gave Cal Lutheran its first lead of the evening on a three-pointer a minute and a half later, which was an advantage CLU would take into the break.
Following the intermission, Cal Lutheran and Claremont-Mudd-Scripps were tied multiple times with numerous lead changes. The Violet and Gold held a slim two-point, 40-38, advantage at the end of the third. The fourth quarter was also close throughout with the Janelle Porter getting a crucial steal before sinking a pair of free-throws with two seconds remaining in regulation to send the teams into overtime.
CMS won the OT tip-off and two minutes in scored the first bucket of the fifth frame. The host team doubled up the visiting Regals 10-5.
Offensive Highlights: Porter earned a start and poured in a game-high 19 points from a pair of three-pointers and a 9-for-11 showing at the charity stripe. She added a trio of offensive rebounds on a night when Sofia Cruz came down with six while scoring seven and handing out a team-high three assists. Both Lindor and Makenna Murray dished out two assists. Hodgson was the only other CLU player in double figures with 11 points.
Defensive Highlights: Cruz pulled down a team-best 12 rebounds with six at each end. Hodgson was one shy of notching another double-double with nine to match teammate Jessica Salottolo who contributed with four offensive boards. Hodgson and Porter recorded the two Cal Lutheran blocks and Cruz, Murray and Salottolo each had two takeaways tonight.
The Opponent: Claremont-Mudd-Scripps (16-8, 12-3 SCIAC) looked to Kailee Severt for 15 points and Quinn Glosniak for 10 points and a game-high 16 rebounds. Maya Love also finished in double digits with 12 points for CMS.
Cal Lutheran (14-9, 10-4) returns home on Saturday, Feb. 18 to host a doubleheader with the men's program against La Verne with tip-off slated for 2:00 p.m. inside the Gilbert Arena. The day will serve as the annual Breast Cancer Awareness game.
Box Score: CMS 63, CLU 58 (OT)
CLU Instagram: http://instagram.com/clusports#
W Basketball Instagram: http://instagram.com/regals_basketball/
CLU Twitter: https://twitter.com/clusports
W Basketball Twitter: https://twitter.com/CLUwBasketball
CLU Facebook: https://www.facebook.com/clusports
W Basketball Facebook: https://www.facebook.com/cluwomensbasketball