Bulldogs Battle Back Against Regals
CLU falls late to Redlands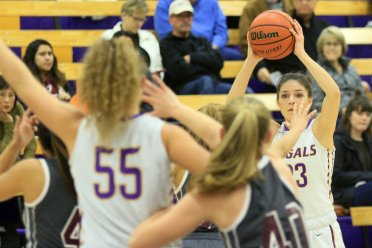 REDLANDS, Calif. – As the Southern California Intercollegiate Athletic Conference (SCIAC) women's basketball season winds down, the importance of every game heats up. Tonight Cal Lutheran was on the losing end of a 71-68 decision against Redlands on the road, as the teams split the season series after CLU defeated UR by the slimmest of margins, 87-86, earlier this year.
Tatiana Dunlap got the scoring started with a three-pointer on the first possession of the game and Cal Lutheran built a nine-point lead six minutes into the game. At the end of the first frame, the Regals held a 22-16 advantage, never trailing, and in the second stanza, continued to control the scoreboard, though UR cut the differential to one, 39-38, at the half.
Out of the locker rooms things remained close, beginning with an and-one from Haley Hodgson less than 30 seconds into the third period. Redlands got within two a few times, but the Violet and Gold maintained a lead. At the 5:15 mark, Hodgsonnotched a layup to spark an 11-2 run capped off with three consecutive free-throws from Kiana Gray to build a comfortable advantage. In the final 10 minutes, the Bulldogs chipped away and with 1:53 to play, UR knotted things at 64-64 before taking over the lead 66-64 and although Cal Lutheran had opportunities down the stretch, the Regals were unable to regain the upper hand.
Offensive Highlights: CLU shot at a higher clip, 40.7 percent, than UR despite hitting just 4-for-17 from three-point range. Dunlap and Janelle Porter both reached double figure scoring by the break with 13 and 10, respectively, and finished with 17 and 12 points. Sofia Cruz poured in 11 while both Makenna Murray and Jessica Salottolo chipped in with nine.
Defensive Highlights: On the glass, the visiting squad came down with 31 rebounds and Dunlap pulled down a team-high eight. Cruz and Murray finished with four apiece. Hodgson and Porter both recorded a block and Porter and Salottolo each came away with two steals as the Regals combined for eight takeaways.
The Opponent: Redlands (13-10, 10-4 SCIAC) is clinging to the fourth spot in the league standings with two games to play and has played spoiler a number of times this season. Leading the way tonight for the Bulldogs was Reyna Ta'amu with game-highs of 21 points and nine rebounds. Jade Cheldelin added 18 points.
Cal Lutheran (14-8, 10-3) faces a tough Claremont-Mudd-Scripps team on the road on Wednesday evening at 7:00 p.m. in another crucial contest.
Box Score: UR 71, CLU 68
CLU Instagram: http://instagram.com/clusports#
W Basketball Instagram: http://instagram.com/regals_basketball/
CLU Twitter: https://twitter.com/clusports
W Basketball Twitter: https://twitter.com/CLUwBasketball
CLU Facebook: https://www.facebook.com/clusports
W Basketball Facebook: https://www.facebook.com/cluwomensbasketball