Regals Roll Past Tigers in SCIAC Win
CLU clips Occidental to win season series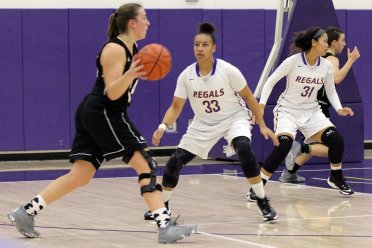 THOUSAND OAKS, Calif. – Clinging to the top spot in the Southern California Intercollegiate Athletic Conference (SCIAC) standings, the Cal Lutheran women's basketball team earned a crucial 69-53 victory over Occidental tonight inside the Gilbert Arena.
A slow start for the Regals turned into a second quarter surge and the Violet and Gold controlled the pace of play for the remainder of the game. CLU edged Occidental 13-12 after the opening 10 minutes, but built as much as a 16-point lead en route to a 36-22 advantage at the intermission. The home squad shot a lights out 73.3 percent from the floor in the second stanza, going 11-for-15. Out of the locker rooms, Occidental challenged, winning the third period 24-22, but CLU stormed back by holding the visiting Tigers to just seven fourth frame points.
Tatiana Dunlap had another hot night, shooting 11-for-16 with a pair of three-pointers for a game-high 24 points, also leading all players with seven rebounds. Jessica Salottolo poured in 16 points on 8-for-11 shooting in the game. Both Sofia Cruz and Katy Lindor handed out four assists to share a game-high while Salottolo dished out three.
Defensively, CLU combined for four blocks with Salottolo recording a pair and Janelle Porter and Haley Hodgson each earning one. Hodgson was just behind Dunlap with six rebounds and also came away with a game-leading three steals.
Cal Lutheran finished the evening shooting at a 47.7 clip while limiting the Tigers to 36.4 percent. CLU also held an advantage on the glass with 38 rebounds to Occidental's 36. Everyone on the active roster got onto the hardwood for the Violet and Gold. CLU has won its last three by a 16-point or more differential and defeated OXY by 14 earlier this season.
Occidental (12-10, 8-5 SCIAC) was led by17 points and six rebounds from Triana Anderson while Chelson Alcantara handed out four assists.
Cal Lutheran (14-7, 10-2) hits the road on Monday, Feb. 13 to play at Redlands with tip-off scheduled for 7:00 p.m.
Box Score: CLU 69, OXY 53
CLU Instagram: http://instagram.com/clusports#
W Basketball Instagram: http://instagram.com/regals_basketball/
CLU Twitter: https://twitter.com/clusports
W Basketball Twitter: https://twitter.com/CLUwBasketball
CLU Facebook: https://www.facebook.com/clusports
W Basketball Facebook: https://www.facebook.com/cluwomensbasketball