Regals Pick Apart Pomona-Pitzer
CLU steals season series from Sagehens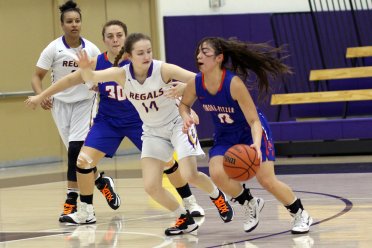 THOUSAND OAKS, Calif. – On an afternoon when there was so much more than basketball going on inside the Gilbert Arena, the Cal Lutheran women's basketball team defeated Pomona-Pitzer, 74-51, in dominating fashion in a Southern California Intercollegiate Athletic Conference (SCIAC) meeting.
CLU basketball alum Haley Bacon ('00) and her family were on hand as her husband Tyler, an avid Cal Lutheran supporter, battles leukemia. A Leukemia Awareness event was put together and both Be the Match Bone Marrow Registry Kits and a blood and platelet donation sign-up were available for fans to participate in as Tyler continues to undergo treatments. Five-year old Taylor served as an honorary captain and was part of the introductions with the Regals prior to tip-off.
Pomona-Pitzer took an early lead, but after a media timeout, CLU put together a fast break from Janelle Porter to Sofia Cruz to take over the lead at 9-8, one which the Regals would not surrender for the remainder of the contest. At the end of the opening frame, Cal Lutheran held a 17-11 advantage and over the next 10 minutes, the Violet and Gold outscored the Sagehens 16-12 to take a comfortable 33-23 lead into the locker rooms.
Out of the break, CLU built a 15-point lead, although Naomi Baer hit a buzzer beater for the final three points of the third. In the final quarter, an and-one for Porter sparked the bench and the Regals ran away over the final eight minutes, producing their most productive period with 23 points.
Tatiana Dunlap was hot tonight with 13 points on 5-for-5 shooting, going 3-for-3 from three-point range, also handing out four assists with a block a steal and three rebounds. Jessica Salottolo led the way with 18 points and Cruzand Haley Hodgson followed with 11 and 10 points, respectively. Hodgson tallied a game-best 10 rebounds for a double-double and Katy Lindor finished with six boards.
Overall, 13 players saw the floor and the team combined to hit 58.8 percent of its shots from the field and 52.4 percent from behind the arc, combining to go 11-for-21 with two apiece from Cruz and Salottolo while Lindor, Porter, Danielle Roumbos and Natalie Ruhl each hit one as well. Defensively, CLU out rebounded PP 38-277 and earned eight steals with two from Porter with the others spread out.
Pomona-Pitzer (1-18, 1-10 SCIAC) was led by a game-high 22 points from Alaina Woo who also led the Sagehens with six rebounds. Anita Romero added 12 points.
Cal Lutheran (13-7, 9-2) will be home again on Wednesday, Feb. 8 when the Regals host Occidental in a crucial league game at 7:00 p.m.
Box Score: CLU 74, PP 51
CLU Instagram: http://instagram.com/clusports#
W Basketball Instagram: http://instagram.com/regals_basketball/
CLU Twitter: https://twitter.com/clusports
W Basketball Twitter: https://twitter.com/CLUwBasketball
CLU Facebook: https://www.facebook.com/clusports
W Basketball Facebook: https://www.facebook.com/cluwomensbasketball