Regals Rout Poets on Road
CLU sweeps season series with WC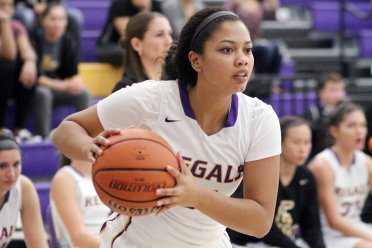 WHITTIER, Calif. – A quick start and hot shooting coupled with solid defense led the Cal Lutheran women's basketball team to a 69-44 Southern California Intercollegiate Athletic Conference (SCIAC) victory over Whittier tonight at the Graham Athletics Center.
CLU won the tip-off and Jessica Salottolo knocked down a three-pointer to put the Regals on the board and the visiting squad went on to open a 15-4 lead en route to a 22-7 first quarter showing in the win. Cal Lutheran held an upper hand throughout the evening and earned a 20-point advantage at 27-7 on a Tatiana Dunlap triple to push the Violet and Gold to a 31-17 advantage at the break. In the second half, CLU continued to control the momentum and completed the 25-point victory, which matched its season-best differential that came against La Verne.
Offensive Highlights: Cal Lutheran shot 50 percent from the floor, going 24-for-48, and hit 35 percent from three-point range. Five players reached double figures for the Regals tonight with Dunlap leading everyone by scoring 15 points. Sofia Cruz finished with a dozen while Makenna Murray came off the bench for 11 and both Salottolo and Haley Hodgson chipped in with 10. Dunlap handed out a team-high three assists and Cruz, Hodgson and Kiana Gray, in her return to action after surgery, tallied two apiece.
Defensive Highlights: CLU looked to Hodgson for 10 rebounds, which led all players, to notch a double-double for the visiting squad. Dunlap was one shy of her own double-double with nine rebounds and Katy Lindor finished with five. Grace Derksen paced the pack with five steals and Cruz and Hodgson each forced two.
The Opponent: Whittier (6-14, 5-6 SCIAC) shot just 32.1 percent as a team and was a dismal 15.8 percent from behind the arc (3-for-19). The poets were led by 10 points from Emily Underwood and six rebounds from Kaylah Alexander.
Cal Lutheran (12-7, 8-2) returns home on Saturday, Feb. 4 to play Pomona-Pitzer at 2:00 p.m. inside the Gilbert Arena as the front end of a doubleheader with the men. The game will serve as Leukemia Awareness Night in support of CLU alum Haley Bacon ('00) and her family as her husband Tyler, a loyal Cal Lutheran supporter, battles the disease.
Box Score: CLU 69, WC 44
CLU Instagram: http://instagram.com/clusports#
W Basketball Instagram: http://instagram.com/regals_basketball/
CLU Twitter: https://twitter.com/clusports
W Basketball Twitter: https://twitter.com/CLUwBasketball
CLU Facebook: https://www.facebook.com/clusports
W Basketball Facebook: https://www.facebook.com/cluwomensbasketball