Hodgson Earns Second SCIAC AOW Honor
Senior leads CLU past CMS with career-high 17 rebounds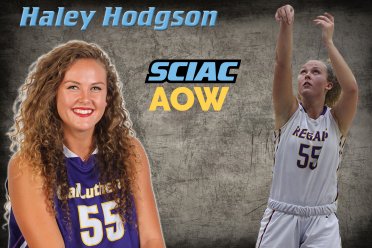 PASADENA, Calif. – Announced on Monday afternoon by the Southern California Intercollegiate Athletic Conference (SCIAC), Haley Hodgson of the Cal Lutheran women's basketball team was named Athlete of the Week based on her performance during the week of Jan. 16-22.
For Hodgson, the recognition marks her second selection this season after she was awarded for her performance during Jan. 2-8. She is currently leading the conference with 10.7 rebounds per game.

The senior forward from Cypress, Calif. had another big week for the Regals, compiling 28 points and 27 rebounds to lead CLU to two victories, including the first win for the Violet and Gold against Claremont-Mudd-Scripps since the 2012-13 season. Hodgson scored 13 points while grabbing 10 rebounds in just 16 minutes of a 74-49 win over La Verne and followed it up with 15 points and a career-high of 17 rebounds to lead the Regals to a 68-59 win over the Athenas on Saturday.
Most recently, Kyle Ferreira (Jan. 9-15) from the Cal Lutheran men's basketball team was honored by the conference and Hodgson is the third Regals basketball player to earn the honor. Prior to the break, Hodgson's teammate Sofia Cruz (Dec. 12-18) and Kingsmen basketball player Austin Cole (Dec. 12-18) were honored. Regals basketball player Janelle Porter (Nov. 14-20) and Kingsmen swimmer Jonah Hobbs (Nov. 14-20) also earned the honor while Hope Stewart (Oct. 17-23 and Sept. 5-11) and Ryley Settles (Sept. 26 – Oct. 3 and Sept. 5-11) are two time-honorees for the Regals volleyball and soccer teams, respectively. For the Kingsmen, football players Aaron Lacombe (Oct. 10-16) and Adam Friederichsen (Sept. 26 – Oct. 3) have been honored as well as water polo player Chris Gardhouse (Sept. 12-18).
Cal Lutheran (10-6, 6-1 SCIAC) takes on Redlands tonight inside Gilbert Arena at 7:00 p.m.

Release: Women's Basketball Athlete of the Week
CLU Twitter: https://twitter.com/clusports
CLU Facebook: https://www.facebook.com/clusports
CLU Instagram: http://instagram.com/clusports#