Regals Triumph Over Leopards
CLU scores biggest win of season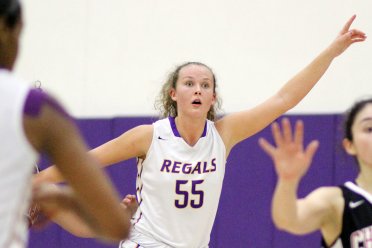 LA VERNE, Calif. – In dominating fashion, the Cal Lutheran women's basketball team took down La Verne by a 74-49 margin, the largest differential of the season, in Southern California Intercollegiate Athletic Conference (SCIAC) action on the road tonight inside of the Sports Science and Athletics Pavilion.
CLU won the tip-off and scored the first 10 points in unanswered fashion behind buckets from a trio of players including Haley Hodgson who notched three of the five en route to a 13-point, 10-rebound double-double. The Violet and Gold never trailed and pushed the gap to 15 points, 25-10, at the end of the first frame and took a 20-point, 42-22, advantage into the locker rooms at the intermission. The Regals maintained a double figure lead throughout the second, third and fourth quarters of the contest and led by as many as 28 at two different occasions, the second on a layup from Jasmine Bernardo with 7:23 to play in the fourth period.
The Regals shot 41 percent from the floor with a 36.4 three-point showing (8-for22) and a free-throw percentage of 80 (16-for-20). CLU out rebounded LV 44-40 and corralled 12 offensive boards. The bench produced 32 points for the visiting team.
Offensive Highlights: Leading all players tonight was Jessica Salottolo who poured in 19 points, going 3-for-4 from three-point range. Both Hodgson and Janelle Porter added 13 points with Porter connecting for a pair of triples as well. Overall, two different players added to the total. Tatiana Dunlap dished out a game-high six assists in the win.

Defensive Highlights: Cal Lutheran looked to Hodgson for 10 rebounds, which led all players and secured her fifth double-double of the season, while Katy Lindor came down with six. CLU nabbed seven steals with two from Makenna Murray. Porter recorded a pair of blocks and Murray and Taylor Messick each added one as well.

The Opponent: La Verne (1-14, 1-5 SCIAC) put two players in double figures with Noelle Cobb and Madison Rubino scoring 12 and 10 points apiece, respectively. Cobb added 11 rebounds to lead all players and finish with a double-double and a game-high three steals.
Cal Lutheran (9-6, 5-1) returns to the friendly confines of the Gilbert Arena on Saturday, Jan. 21 for a double dip with the men's program as CLU welcomes the tough Athenas and Stags from Claremont-Mudd-Scripps for 2:00 p.m. and 4:00 p.m. tip-offs, respectively, in SCIAC action.
Box Score: CLU 74, LV 49
CLU Instagram: http://instagram.com/clusports#
W Basketball Instagram: http://instagram.com/regals_basketball/
CLU Twitter: https://twitter.com/clusports
W Basketball Twitter: https://twitter.com/CLUwBasketball
CLU Facebook: https://www.facebook.com/clusports
W Basketball Facebook: https://www.facebook.com/cluwomensbasketball