Regals Fall to Wittenberg in NCAA Tournament Quarterfinals
McLogan leads Regals with eight kills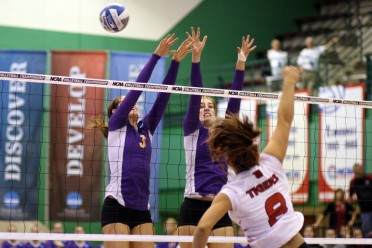 ST. LOUIS, Mo. - Cal Lutheran's first trip back to the Elite Eight since 2006 was cut short by Wittenberg on Friday evening as the Regals fell to the Tigers 25-17, 25-15 and 25-12.

Box Score: WITT 3, CLU 0 - F

"I'm proud of our kids. We kept on fighting and never gave up," said CLU Head Coach Kellee Roesel. "Wittenberg played unbelievably...we ran into a buzz saw tonight."

Wittenberg was playing its first match after knocking off then undefeated and nation's top-ranked squad Calvin in the regional final less than a week ago. On Friday the Tigers advanced to the Final Four after hitting .451 as a team committing just two errors while the Regals hit .168 with 17 errors.

Cal Lutheran's outside hitters Casy McWhirk, Rachel Smith and Kylie McLogan received a majority of the sets and combined to put down 22 kills. Wittenberg's tough serving did not allow for the Regals to find their middles Shannon Pearson and Lesley Smith at the same frequency as they had throughout the season.

"Wittenberg served us very aggressively. Any time it felt like we were about to get some momentum we would miss a serve. Wittenberg played out of their minds and we couldn't get into any sort of rhythm," said Roesel.

CLU middle Lesley Smith found some success puting down six kills on just 10 attempts while Pearson put down five kills on 12 swings. CLU's primary middles were fed the ball only 22 of the team's 101 swings. "We just couldn't get anything going offensively or defensively," commented Roesel. "Our strength has been serving and passing and we didn't show that tonight."

Wittenberg was led by Kimmie Dyer who led all players with 10 kills on just 18 attacks and completed her double-double with 10 digs.

It was the final match in the collegiate careers for Cal Lutheran seniors Jacki Richards and Casy McWhirk. For them tonight's performance does not take away the accomplishments this team has achieved.

"Tonight doesn't change the fact that we are regional champions," said McWhirk. "I'm going to look back on my senior year and always remember what we did. This team will always be able to hold on to this amazing season and the bond that we have."

The returning group is highlighted by two-time All-America selection Jackie Russell who led all players with 25 assists on the night. It was a motivational evening for the soon-to-be senior.

"This experience was a blessing. Our accomplishments this season have definitely raised the standard for this program," said Russell. "We're going to work hard for next year to come out and win a national championship."

Cal Lutheran finishes the season 29-7 while Wittenberg advances to play Eastern at 6 p.m. CST. Christopher Newport will play Carthage in the first semifinal on Saturday, Nov. 19.