Russell Named First Team All-America
Setter earns back-to-back national honor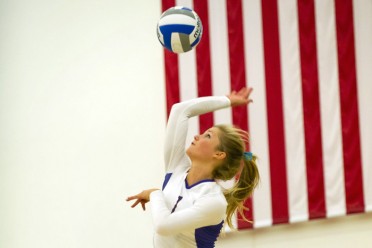 LEXINGTON, Ky. - Three members of the Cal Lutheran volleyball team were named to the American Volleyball Coaches Association (AVCA) All-America Team. Junior setter Jackie Russell was named a First Team selection, with teammates Kylie McLogan and Shannon Pearson earning honorable mention honors.

Release: 2011 AVCA All-America Team

Jackie Russell - First Team All-America
Russell was named the SCIAC Player of the Year, AVCA All-Region, and AVCA First Team All-America after leading her team to the Elite Eight of the NCAA Tournament. She was named to the Cal Lutheran Regional All-Tournament Team after the host Regals defeated Colorado College in the finals.

Russell is ranked second in the SCIAC averaging just over 10 assists per set, but was also a force to be reckoned with behind the line with 39 service aces. It marks her first appearance on the First Team after she was a Third Team All-American a year ago.

She is the third player in Cal Lutheran history to earn Division III First Team All-America honors. Russell is the program's record holder in assists with nearly 3,600 and she holds three of the top four single-season marks in CLU history.

Kylie McLogan - Honorable Mention All-America
The freshman outside hitter was named Cal Lutheran Regional Tournament Most Outstanding Player. McLogan went for 19 kills and hit .341 against Whitworth, 16 kills and hit .195 against Chapman, and hit .459 with 20 kills in the regional final against Colorado College. She posted two double-doubles in three tournament contests and 34 digs total over the weekend.

McLogan leads Cal Lutheran with 400 kills this season becoming the fourth player in program history to reach the milestone. She is tied for the team lead with 40 service aces and 11 solo blocks on the year.

Shannon Pearson - Honorable Mention All-America
The high-flying middle leads qualifying players with her .309 hitting percentage. Pearson is one of three Regals to start all 35 matches and one of two with over 300 kills on the season. In the regional final against Colorado College she hit .393 with 13 kills on only 28 attempts.

She is on pace to become just the sixth player in program history to hit at a .300 clip or higher for an entire season. Pearson, along with McLogan, Russell, Casy McWhirk and Rachel Smith each earned All-SCIAC Team recognition this season.

Cal Lutheran will face Wittenberg in the NCAA Tournament quarterfinals on Friday, Nov. 18. The match will take place at 8 p.m. on the campus of Washington University-St. Louis.