Volleyball Wins Regionals, Heading to Nationals
McLogan named tournament MOP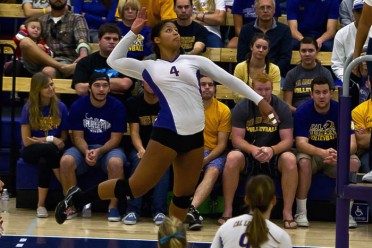 THOUSAND OAKS, Calif. - Cal Lutheran will be heading to the NCAA National Championship Tournament following a 3-1 victory over Colorado College in the regional final on Sunday afternoon.

Box Score: CLU 3, CC 1 - F

After three straight seasons of near-misses Cal Lutheran returns to the Elite Eight for the third time in program history and second under Head Coach Kellee Roesel.



The Regals trailed 16-7 in the first set with the Tigers collecting three aces in the process. Once Cal Lutheran got its serve receive on track it allowed for the offense to fully operate and mount a sizeable comeback.

Colorado College held on to win the first set 28-26 but Cal Lutheran had made its mark and continued to run its offense successfully over the remainder of the match.

The CLU offense felt little resistance against the Tigers defense hit .327 overall as a unit. This effort was highlighted by .419 team hitting percentage during a 25-13 second set victory.

Defensively the Regals collected 13.5 team blocks with nine coming over the final two sets. Jackie Russell and Shannon Pearson combined for the final stuff returning Cal Lutheran to the National Championship Tournament for the first time since 2006.

Kylie McLogan led all players with 20 kills and completed her double-double with 11 digs. She was named the Cal Lutheran Regional Tournament Most Outstanding Player.

Setter Jackie Russell dished out 49 assists in the win over Colorado College and was also named to the All-Tournament Team.

CC's Sarah Schmoker led her team with 18 kills and three aces in the loss. Tigers setter Amy Schornack contributed 36 assists against Cal Lutheran and was named to the All-Tournament Team

Occidental's Logan Boyer-Hayse and Madyson Cassidy, Whitworth's Kaimi Rocha, and Southwestern's Rachel Thibodeau round out the All-Tournament Team selections.

Cal Lutheran (29-6) will face Wittenberg in the NCAA Tournament quarterfinals on Friday, Nov. 18, at Washington University in St. Louis, Mo.