Sweep of Chapman Sends Regals to Regional Final
Regals face Tigers for trip to nationals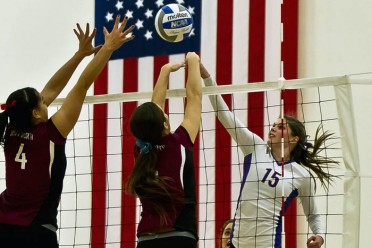 THOUSAND OAKS, Calif. - Cal Lutheran took down an upset-minded Chapman squad 25-21, 26-24, and 25-22 on Saturday night inside Gilbert Arena. CLU will face Colorado College in the NCAA Tournament Cal Lutheran Regional final on Sunday, Nov. 13, at Noon.

Box Score: CLU 3, CU 0 - F
Box Score: CC 3, OXY 2 - F

The Regals defense carried them through the first two sets holding the Panthers to team hitting percentages of .056 and .105, respectively. The offense finished the job with Cal Lutheran hitting .359 behind 18 kills in the third and final frame.

An efficient evening from senior Casy McWhirk aided the effort. She finished with nine kills on only 17 attacks to go along with a match-high 16 digs. Fellow senior Jacki Richards collected 13 digs on the night bringing her single-season total to the second most in program history at 430.



Chapman faced Cal Lutheran after coming off a four set victory over Southwestern (TX) the night prior. The Panthers held the Pirates to only a .111 hitting percentage highlighted by seven total team blocks.

On Saturday the defensive minded Chapman squad recorded six blocks but Cal Lutheran used multiple offensive sources led by 16 kills from Kylie McLogan. She leads all players at the Cal Lutheran Regional with 35 kills through two matches.

Rachel Smith added 12 kills of her own and moved into eighth on CLU's all-time list with 820 for her career.

Ashleigh Gideon and Kate Ferrin led Chapman with 12 and 11 kills, respectively. While this duo combined for 23 kills and a .269 hitting percentage, the rest of their teammates totaled 12 kills and hit .000 for the match.

Cal Lutheran found out which Tigers squad would be their potential opponent in the final after Colorado College defeated Occidental in five sets. A back-and-forth battle similar to CLU's first round match went the distance to open Saturday's action.

Laura Goldsmith led CC with 17 kills and 23 digs in the victory. Teammate Devin Wilkinson smashed 15 kills on just 25 attempts and hit .520 against Occidental.

In the fifth and deciding set Colorado College minimized mistakes committing only one attack error while Occidental had four errant swings.

OXY's Logan Boyer-Hayse reeled off 16 kills and 20 digs to complete her double-double. Libero Madyson Cassidy provided a match-high 26 digs in the loss.

The winner of Sunday's match will earn one of eight spots at the National Championship Tournament hosted by Washington-St. Louis University. That event will begin on Friday, Nov. 18, with four quarterfinal contests.