Cal Lutheran Comeback Falls Short in SCIAC Finals
McWhirk sets new season high with 26 digs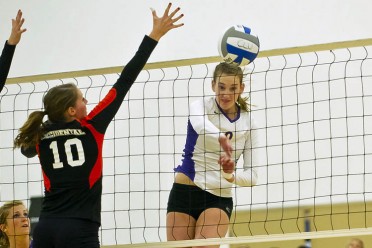 THOUSAND OAKS, Calif. - No. 15 Cal Lutheran nearly completed its come-from-behind effort Saturday night, erasing a 2-0 Occidental lead to force a fifth set in the SCIAC Post-Season Final. Unfortunately for the Regals, the Tigers hit .471 in that decisive set to defeat Cal Lutheran 3-2.

Box Score: OXY 3, CLU 2 - F

The loss ended CLU's six-match win streak, set scores were 21-25, 22-25, 25-23, 25-16, 8-15.

"I think the first two sets were as bad as we have ever played," said Cal Lutheran head coach Kellee Roesel. "I kept telling my team that even though we were playing as poorly as we ever have, we were still in the match."

Falling behind 2-0 due to its seven attack errors in the first set, and Occidental's 19-kill effort in the second, Cal Lutheran rebounded from its slow start with a more aggressive style of play in the third and fourth sets to tie the match at two apiece.

Recording seven of their 9.5 blocks, and forcing the Tigers to commit 17 of their 29 attack errors throughout that two-set timespan, the Regals were able to extend the match by another set in front of an energetic crowd at Gilbert Arena.

Cal Lutheran's comeback effort ultimately fell short, as Occidental ended its evening by recording nine kills against only one attack error to win the fifth set by a 15-8 margin.
"We did a lot of good things throughout that fourth set, and had all the momentum heading into that fifth set," stated Roesel. "They ended the match hitting .471, and we hit only .095. Hopefully we will earn an NCAA bid, the right to host, and see if our team can step up to the challenge."

Cal Lutheran middle blocker Shannon Pearson led all Regals with 17 kills, with right side Casy McWhirk ending her evening with a season-high 26 digs.

Three Regals finished Saturday's final with 20 or more digs; in addition to McWhirk, libero Jacki Richards and outside hitter Rachel Smith finished with 24 and 21 digs apiece.

Combined, the trio was responsible for more than two-thirds of CLU's 93 digs.

No. 15 Cal Lutheran (26-6) will discover its NCAA playoff fate on Monday, Nov. 7, when the 62-team field for this year's Division III women's volleyball tournament is unveiled at 8 a.m. PT on NCAA.com.