Regals End Regular Season with 3-0 Sweep Over Sagehens
Cal Lutheran hosts Whittier in Thursday's SCIAC semifinal match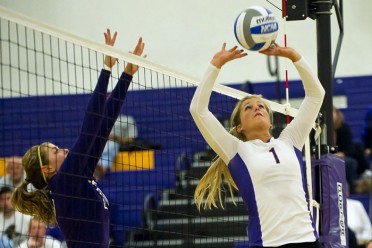 CLAREMONT, Calif. - Led by outside hitters Kylie McLogan and her team-high 15 kills, and Rachel Smith with her 12, No. 15 Cal Lutheran ended its regular season with a 25-12, 25-21, 25-22 victory Tuesday night at Pomona-Pitzer.

Box Score: CLU 3, PP 0 - F

Combined with their home victory over Pomona-Pitzer on Oct. 1, Tuesday's win helped the Regals secure their seventh regular-season sweep over the Sagehens in the last nine years.

Leading all players with 35 assists, setter Jackie Russell finished with a higher total than the entire Pomona-Pitzer team combined (28). Led by McLogan and Smith, eight of the nine Regals who competed for head coach Kellee Roesel helped Russell's cause by recording at least one kill.

Forcing Pomona-Pitzer to commit six attack errors, earn only four kills, and finish with a negative attack percentage, Cal Lutheran took the first set by a comfortable 25-12 margin. In comparison, CLU committed only three attack errors, earned 15 kills, and recorded a .375 attack percentage.

Also assisting CLU's cause in the first set was the effort of McLogan; recording seven kills on 12 swings, the freshman committed zero errors in the Regals' 25-12 set victory.

Responsible for seven of CLU's 17 kills in the second set, Smith helped turn an early 12-5 CLU lead into another set victory as the Regals scored five of the final eight points to take a 2-0 lead into the break.

Once the teams returned to the court, Cal Lutheran continued to assert itself on offense as the Regals were able to negate a three-point Pomona-Pitzer lead on separate occasions to tie the match at 16-16.

Breaking that tie by winning six straight points, Cal Lutheran earned its second three-set sweep over the Sagehens this season once Pomona-Pitzer committed its 16th attack error of the match.

By ending the season as conference champions, Cal Lutheran (25-5, 13-1 SCIAC) earned the No. 1 seed in this year's SCIAC Post-Season Tournament, and the right to host both semifinal matches this Thursday, Nov. 3.

Competing in a 7:30 p.m. match against the Whittier Poets (13-18, 8-6 SCIAC), a team CLU also swept during the regular season, the Regals will take the floor at Gilbert Arena following Thursday's 5 p.m. semifinal contest between Occidental and Claremont-Mudd-Scripps.