No. 15 Cal Lutheran Sweeps Caltech, 3-0
Second straight SCIAC title is within reach for Regals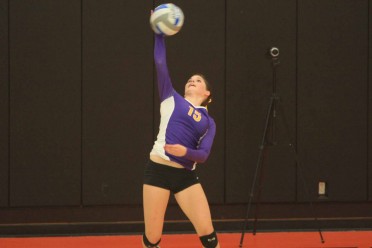 THOUSAND OAKS, Calif. - With its 25-6, 25-12, 25-10 victory over Caltech Tuesday night, No. 15 Cal Lutheran clinched at least a share of this year's SCIAC volleyball title.

Box Score: CLU 3, CIT 0 - F

If Cal Lutheran earns a win in one of its final two matches - this Friday night against Whittier or next Tuesday at Pomona-Pitzer - the Regals will win their second consecutive conference championship outright and host next Thursday's SCIAC Post-Season Tournament Semifinals.
Committing only eight attack errors throughout the entire match, the Regals needed only 51 minutes to defeat Caltech and earn the team's 17th straight regular season SCIAC victory at Gilbert Arena.



Finishing with attack percentages of .450, .583, and .263, Cal Lutheran successfully forced Caltech to commit 13 attack errors and record negative attack percentages throughout all three sets.

Aiding CLU's cause were 19 service aces - a new season-high that easily beat the team's previous mark of 14 earned against Lycoming at the Posada Royale Fall Classic.

In addition to middle blocker Erin Hedrick, outside hitter Lauren Rohach also set a new season-high as the pair were two of four Regals to finish the evening with a team-high three service aces.

Outside hitter Rachel Smith and libero Hannah Swaney were the other players to finish with three aces.

It was the fourth time this season that Smith finished with three aces as the junior was also able to earn similar totals at Westmont, against Redlands, and Lycoming. For Swaney, Tuesday's total matched her three-ace effort also earned against Lycoming.

Led by Smith and her team-high seven kills, 13 different Regals were able to record at least one kill against the Beavers.

No. 15 Cal Lutheran (23-5, 11-1 SCIAC) will face Whittier (11-17, 6-5 SCIAC) this Friday, Oct. 28, in the Regals' final home match of the regular season.