Regals Rebound with Saturday Sweep
Jacki Richards records 1,000th career dig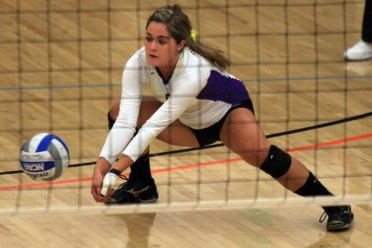 REDLANDS, Calif. - Less than 24 hours after having its 13-match win streak snapped, No. 14 Cal Lutheran began its newest streak Saturday with three-set sweeps over New York University and Redlands.

Box Score: CLU 3, NYU 0 - F
Box Score: CLU 3, UR 0 - F

Cal Lutheran 3, NYU 0 - F
Led by outside hitter Kylie McLogan and her 13 kills, No. 14 Cal Lutheran wasted no time in defeating New York University 25-21, 25-20, and 25-16 in a neutral-site match at the University of Redlands.
Right side Casy McWhirk also finished with double-digit kills, earning 10 out of her 17 swings to finish with a .471 hitting percentage.

Collecting four digs against NYU, senior libero Jacki Richards became the seventh player in CLU program history to record 1,000 or more digs.

Earning another 11 in the Regals' 3-0 win over Redlands in the second match of CLU's Saturday doubleheader, Richards now occupies seventh place in the program's list of career records with 1,011 digs.

Cal Lutheran 3, Redlands 0 - F
Forcing their opponents to finish with a meager .055 attack percentage, the Regals ended their time in Redlands by defeating the host Bulldogs 25-18, 25-12, and 25-21 to earn another regular season sweep over UR.

The Bulldogs have now been swept by Cal Lutheran in seven of the last eight seasons.

Entering Saturday's match with 14 kills to her credit this season, outside hitter Hannah Orlandi nearly doubled her total in one match as she led all Regals with a career-high 10 kills.

In addition to Orlandi, setter Jena Chavez also set a new career high as the freshman and teammate Jackie Russell each led all players with 18 assists.
Both Chavez and Russell nearly matched the efforts of the entire Redlands team as the Bulldogs were only able to record a total of 20 assists against the Regals.

No. 14 Cal Lutheran (22-5, 10-1) will continue its conference schedule at Gilbert Arena on Tuesday, Oct. 25, against Caltech (0-19, 0-11 SCIAC).