Cal Lutheran Upset by Occidental
Two Regals force a rewrite of program's record books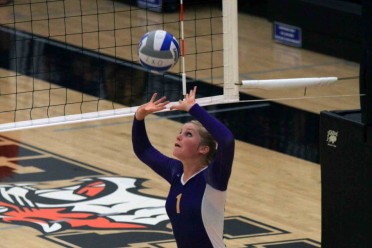 LOS ANGELES, Calif. - Freshman outside hitter Kylie McLogan led all Regals with 17 digs and 16 kills, recording her second double-double in as many games, but No. 14 Cal Lutheran had its 13-match win streak snapped with its 3-1 loss to Occidental Friday night.

Box Score: OXY 3, CLU 1 - F

Set scores were 21-25, 25-18, 18-25, 23-25.

The loss was Cal Lutheran's first at the hands of Occidental since Oct. 29, 2003, ending the Regals' 16-match win streak against the Tigers in the process.

After losing the opening set, the Regals responded with a .471 hitting percentage and zero attack errors throughout the second set to tie the game at one apiece.

Late-set Occidental scoring runs ended up being the difference in Friday's match; regaining a 2-1 lead after winning 12 of the last 18 points in the third set, the Tigers were also able to secure seven of the last eight points scored in the fourth to hand Cal Lutheran its first regular season SCIAC loss since Oct. 9, 2009.

Earning her seventh double-double of the season on 15 digs and 10 kills, senior right side Casy McWhirk was one of three Regals to earn 10 or more kills against the Tigers. In addition to McLogan and McWhirk, junior middle blocker Shannon Pearson ended her evening with 10 kills.

Recording all but one of Cal Lutheran's 37 assists against Occidental, junior setter Jackie Russell was one of two players to force a rewrite of the program's record books once the CLU's match against Occidental concluded.

Responsible for 815 of her team's assists this season, Russell now occupies 10th place in Cal Lutheran's single season list of records - a position previously held by Keely Smith and her 810 assists collected throughout the 2003 season.

Entering Friday's game tied for fifth all-time alongside Brionna Morse (2001-04) with a matching total of 1,033 career digs, junior outside hitter Rachel Smith added another 15 digs to her all-time total to move into third place once the evening concluded.
Bypassing Summer Plante-Newman (2005-08, 1,038 digs) and Jamey Light (1994-97, 1,045 digs) as the match progressed, Smith now possesses a total of 1,048 digs earned throughout her three seasons at Cal Lutheran.

No. 14 Cal Lutheran (20-5, 9-1 SCIAC) will experience a short turnaround before returning to the court to compete in two matches on Saturday, Oct. 22. Taking place at the University of Redlands, the Regals will face New York University (15-11) at 2 p.m. before resuming their SCIAC schedule in a 6 p.m. match against the host Bulldogs (3-18, 2-8 SCIAC).