Trio of Regals Earn All-America Accolades
Lawrence, Pappas and Stewart recognized by AVCA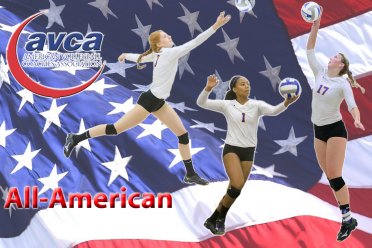 LEXINGTON, Ky. – Announced recently by the American Volleyball Coaches Association (AVCA), a trio of student-athletes from the No. 5 Cal Lutheran women's volleyball team were recognized as Division III Honorable Mention All-America.
Hope Stewart, Michelle Lawrence and Sarah Pappas cap off the season with one of the highest honors at the collegiate level to go along with AVCA All-West Region honors and First Team All-SCIAC selections they received earlier this year. Pappas is now a three-time All-America Honorable Mention honoree while Lawrence earned Second Team All-America last season and Honorable Mention honors in 2014. Stewart is a first time selection after a breakout junior season.
Stewart was phenomenal in 2016, leading the Regals with 367 kills in all 32 matches while averaging a team-high 3.56 kills per set. She finished with a hitting percentage of .260 with only 113 errors in 976 attempts and was fourth on the team with 25 service aces. The Oxnard, Calif. native was also a force on the defensive end and accumulated 281 digs to go along with 55 total blocks. In the regional finals against Northwestern-St. Paul, Stewart set a career-high with 24 kills while adding 12 digs for the double-double.
Lawrence wraps up her career with a third All-America selection after another strong season that saw her produce 266 kills to rank second on the team. The senior from Walnut Creek, Calif. played in 29 matches and averaged 2.83 kills per set while totaling 230 digs and 80 blocks. In just three seasons at CLU, Lawrence finishes her career ranked seventh all-time in career kills with 1,014.
Pappas also concludes her career as a three-time All-America honoree after ranking second on the Regals with 106 total blocks. The senior middle blocker tallied a team-high 22 solo blocks while assisting on 84. She ranked 49th in the nation with 1.04 blocks per set and her 106 total blocks ranked 61st. Pappas finished third on the team with 244 kills and led the way with an incredible .357 hitting percentage, which ties her own mark for seventh all-time in CLU single-season history.
The 2016 Division III AVCA Player of the Year was awarded to Lindsey Peterson from Northwestern-St. Paul and the Freshman of the Year was awarded to Aubrey Cox from Wittenberg. The National Coach of the Year went to Beth Wilmeth from Northwestern-St. Paul while the National Assistant Coach of the Year was awarded to Kelly Bonja of Tufts University.
The Southern California Intercollegiate Athletic Conference (SCIAC) was well represented with a total of seven student-athletes selected. Claremont-Mudd-Scripps matched CLU with three selections in Mikena Werner, Nicole Kerkhof and Shelbi Stein while Kelsi Robinson from La Verne was also recognized.
Cal Lutheran finished the season 27-5 and captured its seventh consecutive SCIAC Championship, and 13th overall, in addition to its fifth SCIAC Postseason Tournament title. The Regals advanced to their 17th NCAA Division III Tournament in program history and ninth in a row.
In the final AVCA Top-25 Poll, CLU finished the season ranked No. 5 with 986 points and one first place vote.
Release: 2016 AVCA All-America Teams
CLU Instagram: http://instagram.com/clusports#
CLU Twitter: https://twitter.com/clusports
CLU Facebook: https://www.facebook.com/clusports
CLU WVB Instagram: https://instagram.com/regals_volleyball/
CLU WVB Twitter: https://twitter.com/CLUwVolleyball
Follow Coach Roesel on Twitter: @CoachRoesel