Regals Tame Gusties to Advance to Regional Championship
CLU earns second sweep in as many days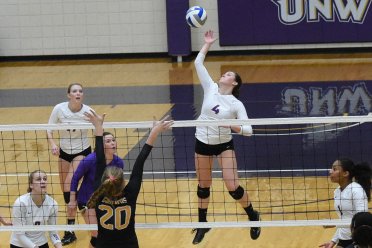 ST. PAUL, Minn. – In the St. Paul, Minnesota Regional Semifinal on Friday afternoon, the No. 1 Cal Lutheran women's volleyball team swept past Gustavus Adolphus 3-0 (25-15, 25-12, 25-23) to advance to the regional championship match tomorrow night. With the win, the defending champion Regals will appear in their fourth regional title match in five years.
With a student section to cheer on nearby Gustavus Adolphus, the Gusties came out of the gates strong and found themselves within two points midway through the match. The Violet and Gold, however, responded well and with a 16-14 lead, closed out the set on a 9-1 run. Sarah Pappas and Hope Stewart were instrumental during the stretch with a pair of kills apiece while also teaming up for a block.
Stewart continued her dominance into the second set, helping the Regals pull away from a 5-5 tie with three kills in a matter of five plays. CLU proceeded to go on a 10-1 run as Pappas and Monica Lundgren added kills and Molly Holloway dished out one of her three service aces in the match. With a 15-9 lead, the Regals rattled off eight straight points behind a pair of kills from Lundgren and a kill from Amanda Roberts. Overall, CLU ended on a 20-7 scoring run and closed out the set in convincing fashion, 25-12. The Regals finished with an efficient .429 hitting percentage, tallying 14 kills in 28 attempts with just two errors in the set.
In the third, CLU took an early 8-3 lead behind strong play from Roberts but the Gusties crept back into the match in hopes of keeping its season alive. An 11-4 run gave Gustavus Adolphus an 18-16 lead before Pappas and Stewart registered back-to-back kills to tie the match at 18-18. After trading points, CLU found themselves down 23-22. Michelle Lawrence came through with a clutch kill to tie the match and Nicki Tetherow put the icing on the cake with a service ace that deflected off the top of the net. Pappas put the cherry on top with a kill to close out the set and match, 25-23.
Stewart paced the way offensively once again with a game-high 16 kills on 32 attempts for an effective hitting percentage of .344. Pappas hit .538 with seven kills and Lawrence had a strong all-around match with eight kills and six digs. Roberts tallied six kills and seven digs while Jamie Smith notched 35 assists on the night. Tetherow finished with a game-high 12 digs and Stewart was one away from a double-double with nine.
Gustavus Adolphus (23-8) was led by Lauren Hanson, who finished with 11 kills, and Anne Ladwig who had 10 digs.
Cal Lutheran (27-4) will play the winner of No. 15 Wisconsin-La Crosse and host No. 18 Northwestern tomorrow, Nov. 12 at 7:00 p.m. CT inside the Ericksen Center.
Box Score: CLU 3, GAC 0
CLU Instagram: http://instagram.com/clusports#
CLU Twitter: https://twitter.com/clusports
CLU Facebook: https://www.facebook.com/clusports
CLU WVB Instagram: https://instagram.com/regals_volleyball/
CLU WVB Twitter: https://twitter.com/CLUwVolleyball
Follow Coach Roesel on Twitter: @CoachRoesel