Four Regals Earn AVCA All-West Region Honors
Lawrence and Pappas honored for third straight year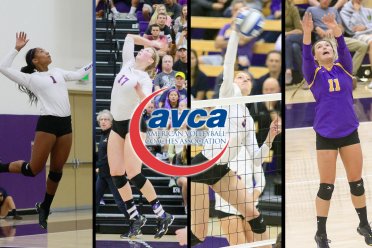 LEXINGTON, Ky. – Announced on Thursday by the American Volleyball Coaches Association (AVCA), four student-athletes from the No. 1 Cal Lutheran women's volleyball team were recognized with All-West Region accolades.
Hope Stewart, Michelle Lawrence and Sarah Pappas were selected to the team along with Nicki Tetherow who earned Honorable Mention. Lawrence and Pappas earned the distinction for the third consecutive year while Stewart and Tetherow are first time honorees.
The same quartet recently earned All-SCIAC recognition with Stewart, Lawrence and Pappas landing on the First Team and Tetherow reeling in a Second Team selection.
Junior outside hitter, Stewart, has been a consistent force on the offensive end all season long for the Regals and leads the team with 327 kills for an average of 3.44 kills per set. The Oxnard, Calif. also gets it done on the defensive end and is second on the team with 260 digs while adding 51 total blocks. She has six double-doubles this season and recorded a career-high of 17 kills in match twice this season.
Lawrence is no stranger to the All-West Region team and caps of her career with a third selection in all three of her seasons at CLU. The senior from Walnut Creek, Calif. has slammed home 242 kills in 27 matches, ranking second on the team with a 2.81 kills per set average. The 6-foot-3 outside hitter does it all and has 216 digs as well as 75 total blocks to prove it.
One of the top blockers, not only on the team, but in the nation has been Pappas who also earns a third consecutive selection. The senior from Reno, Nev. has racked up 102 total blocks, including a team-high 21 solo blocks. Pappas also leads the team and ranks 21st in the nation with a .362 hitting percentage. She has 228 kills and just 59 errors in 467 attempts this season.
Rounding out the honorees is Tetherow who earns her first All-West Region selection. The Goleta, Calif. native has been a leader on and off the court and ranks first on the team with 449 digs. She currently ranks second in CLU history in career digs and is closing in on the top spot. Tetherow has also contributed 27 service aces this season.
No. 4 Texas-Dallas head coach Marci Sanders was named West Region Coach of the Year after leading the Comets to a 30-2 record in the regular season. Dylan Brinkman, also from Texas-Dallas, was named Freshman of the Year.
The Southern California Intercollegiate Athletic Conference (SCIAC) was well represented as No. 3 Claremont-Mudd-Scripps had three selections in Nicole Kerkhof, Shelbi Stein and Mikena Werner while No. 19 La Verne landed two spots with Kelsi Robinson and Tiffany Mancuso.
Cal Lutheran (26-4) continues NCAA Tournament action later today in the St. Paul, Minnesota Regional Semifinal against Gustavus Adolphus (24-7) at 4:30 p.m. CT
Release: 2016 AVCA All-Region Teams
CLU Instagram: http://instagram.com/clusports#
CLU Twitter: https://twitter.com/clusports
CLU Facebook: https://www.facebook.com/clusports
CLU WVB Instagram: https://instagram.com/regals_volleyball/
CLU WVB Twitter: https://twitter.com/CLUwVolleyball
Follow Coach Roesel on Twitter: @CoachRoesel