Regals Fly Past Falcons in First Round
Stewart leads the way with 10 kills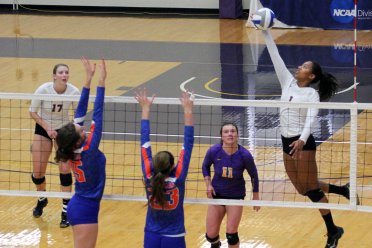 ST. PAUL, Minn. – The No. 1 Cal Lutheran women's volleyball team started the 2016 NCAA Division III Tournament off on a strong note with a 3-0 (25-13, 25-20, 27-25) sweep over Concordia-Wisconsin in the first round of the St. Paul, Minnesota Regional on Thursday afternoon at Northwestern.
The defending National Champions were eager to get on the court and it showed as the Regals jumped out to a 7-1 lead in the first set. Hope Stewart and Monica Lundgren were in the action early, slamming down a pair of kills to facilitate the strong start and Molly Holloway capped off the run with an ace.
With a 14-9 lead and Amanda Roberts back to serve, the Regals rattled off five straight points highlighted by a pair of blocks from Stewart and an ace from Roberts. Sarah Pappas was a force to be reckoned with at the net tallying five total blocks in the first set alone.
With a comfortable 21-12 lead, the Violet and Gold went on a 5-1 run fueled by back-to-back kills from Stewart and took the set 25-13.
The Regals carried their momentum into the second set and scored six unanswered points with Dani Gonzalez on service and took an early 10-2 lead. CLU continued to extend its lead as Stewart, Lundgren and Michelle Lawrence contributed kills and the Regals were up big 21-13. The Falcons went on a 5-2 run towards the end of the set, but CLU held of the attack to take a 2-0 lead with a 25-20 set victory.
In the third set with its season hanging in the balance, Concordia-Wisconsin gave the Regals everything they had and made them work for the sweep. The Falcons took an early 4-1 lead before CLU stormed back with four straight points, including kills from Jamie Smith and Lundgren, to retake the lead at 5-4. Both teams would trade points in the seesaw set until Pappas gave the Regals some separation with three kills in four plays to put CLU ahead 22-19. The Falcons rallied back to tie the match at 24-24 when Lundgren put away a critical kill to take match point. Concordia-Wisconsin managed to tie it at 25-25 but costly errors on the final two plays gave the set to the Regals.
"I'm most proud of my kids grit tonight," said head coach Kellee Roesel. "We've kind of faced that the past few years where everyone has their best match against us. I thought Concordia got better and better as the match went on and were very dangerous."
Stewart notched double-digit kills to lead the Regals to go along with nine digs. Pappas was close behind with nine kills and a game-high six total blocks. Lawrence had a strong all-around performance with seven kills, 10 digs and five blocks while Lundgren finished with four blocks and five kills. Facilitating all night was Smith, who racked up 36 assists and Tetherow ended with nine digs on the defensive end.
Concordia-Wisconsin (23-8) was led by 12 kills from Megan Mayer while four other players contributed four kills apiece for the Falcons and Lindsey Casper finished with a game-high 12 digs.
Cal Lutheran (26-4) advances to the St. Paul, Minnesota Regional Semifinal and will take on Gustavus Adolphus tomorrow, Nov. 11 at 4:30 p.m. CT. The Gusties swept past Wartburg 3-0 earlier in the day to advance.
Box Score: CLU 3, CUW 0
CLU Instagram: http://instagram.com/clusports#
CLU Twitter: https://twitter.com/clusports
CLU Facebook: https://www.facebook.com/clusports
CLU WVB Instagram: https://instagram.com/regals_volleyball/
CLU WVB Twitter: https://twitter.com/CLUwVolleyball
Follow Coach Roesel on Twitter: @CoachRoesel