Regals Quest for Repeat Begins in Minnesota
NCAA Tournament bracket announced today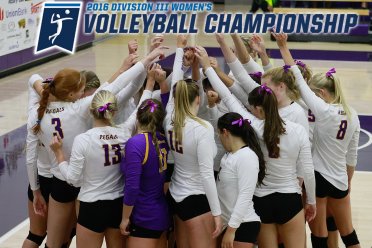 INDIANAPOLIS, Ind. – After earning an automatic qualification to the 2016 NCAA Division III Women's Volleyball Tournament by winning the Southern California Intercollegiate Athletic Conference (SCIAC) Postseason Tournament Championship over the weekend, the No. 2 Cal Lutheran women's volleyball team found out its fate this morning as the tournament brackets were announced. The defending National Champion Regals (25-4) will travel across the country where they will face-off against Concordia-Wisconsin (23-7) in the First Round of the St. Paul, Minnesota Regional hosted by Northwestern-St. Paul.
The 64-team field is comprised of selections from Pool A (automatic qualifications (AQ) from a conference), B (independent schools and school that are members of conferences that do not meet the requirements for automatic qualification) and C (schools from AQ conferences that were not the conference champion and any remaining Pool B teams). This year 43 conferences earned automatic qualification while Pool B garnered just one selection and the remaining 20 berths went to Pool C teams.

In addition to Northwestern-St. Paul hosting the St. Paul, Minnesota Regional, there were seven other regional host and locations announced: Brockport (Brockport, N.Y.), Calvin (Grand Rapids, Mich.), Mary Washington (Fredericksburg, Va.), Stevens (Hoboken, N.J.), Texas-Dallas (Dallas, Texas), Tufts (Medford, Mass.) and Wisconsin-Whitewater (Whitewater, Wis.).

Regional competition will take place Friday-Sunday, Nov. 11-13 at all sites except Calvin, Northwestern-St. Paul and Wisconsin-Whitewater, where competition will be Thursday-Saturday, Nov. 10-12.
Gustavus Adolphus (23-7) kicks off the St. Paul, Minnesota Regional on Thursday with its opening match against Wartburg (21-5) at 12:30 p.m. CT followed by CLU and CUW at 3:00 p.m. St. Thomas (22-8) squares off against No. 13 Wisconsin-La Crosse (22-5) at 5:30 p.m. and the first day of action comes to a close with tournament host No. 22 Northwestern-St. Paul (30-4) against St. Norbert (16-14) at 8:00 p.m.
The winner of the Gustavus Adolphus-Wartburg match will play the winner of the Cal Lutheran-Concordia-Wisconsin match at 4:30 p.m. CT on Friday, Nov. 11 while the winner of the St. Thomas-UW-La Crosse match will play the winner of the UNW-St. Norbert match at 7:00 p.m.

The remaining two teams will play in the Regional Championship on Saturday, Nov. 12 at 7:00 p.m. for a chance to advance to the elite eight and compete for the National Championship held in Oshkosh, Wis. from Nov. 17-19.
This is the ninth consecutive appearance in the NCAA Tournament for Cal Lutheran and 17th overall in program history. The Regals defeated Wittenberg 3-0 in the championship match last season for the first NCAA team title in school history.

Tournament Central: St. Paul, Minnesota Regional
Bracket: 2016 NCAA Division III Volleyball Tournament Bracket
Release: 2016 NCAA Division III Volleyball Tournament Release
Live Stats: All Matches
Live Video: All Matches
CLU Instagram: http://instagram.com/clusports#
CLU Twitter: https://twitter.com/clusports
CLU Facebook: https://www.facebook.com/clusports