Regals Return to NCAA Tournament with SCIAC Postseason Championship
CLU wins 5th SCIAC Postseason Tournament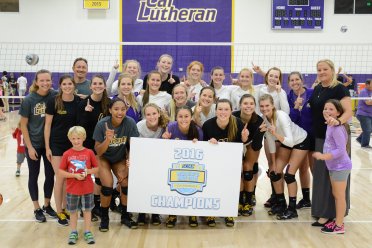 THOUSAND OAKS, Calif. – In the fourth straight Southern California Intercollegiate Athletic Conference (SCIAC) Postseason Tournament Final featuring Cal Lutheran and Claremont-Mudd-Scripps, the No. 2 Regals swept past the No. 4 Athenas 3-0 (25-23, 25-19, 25-16) to earn an automatic bid into the NCAA Tournament while clinching their fifth SCIAC PST title on Saturday night.
The defending National Champion Regals will return to the NCAA Tournament for the 17th time in program history and ninth consecutive season.
As the title match got underway, the Regals jumped out to an early 4-2 lead in the first set. The Athenas, however, were not letting the Regals run away with a lead and continued to push back. CMS was able to string together three straight points to get within one, 9-8, and kept up the pressure to take a 13-10 lead. CLU staged a rally of its own and stormed back for a 19-17 advantage. As the two teams battled down the stretch, the Athenas jumped out to a 23-21 lead before the Regals scored four straight points to close out the crucial first set.
The second set started off with a 6-3 lead by the Regals and they followed it with a four-point scoring run to put the score at 10-4. The Violet and Gold were able to take an even larger lead of 12-6, but the Athenas continued to push forward scoring five points to the Regals one closing the gap, 13-11. The Regals continued to push through the set holding the lead until the end 25-19.
Cal Lutheran started off the third set with five straight points with Hope Stewart on service making the score 5-0. The Regals continued to hold a massive lead of eight points over the Athenas 16-8. CMS was only able to put up eight more points before the Regals scored the nine points needed to end the set at 25-16.
Stewart led the way for the Regals in the championship match-up with 12 kills, seven digs and three blocks. Michelle Lawrence followed with 11 kills, six digs and six blocks. Sarah Pappas and Amanda Roberts each had six kills and Pappas also had five blocks while Roberts had two service aces, five digs and four blocks of her own. Monica Lundgren had three kills and a game-high of eight total blocks. Jamie Smith had 28 assists and 11 digs, while Nicki Tetherow held the game-high of 19 digs. The Violet and Gold had a season high of 25 total blocks from six different Regals.
Cal Lutheran (25-4) advances to the NCAA Division III Women's Volleyball Tournament, held Nov. 11-13, and will await their seeding and Regional location which will be announced at the NCAA Selection Show on Monday, Nov. 7 at 9:30 a.m. PST.
Box Score: CLU 3, CMS 0
CLU Instagram: http://instagram.com/clusports#
CLU Twitter: https://twitter.com/clusports
CLU Facebook: https://www.facebook.com/clusports