Leyva Earns NFCA All-West Region
CLU honored regionally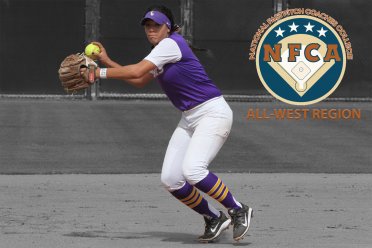 LOUISVILLE, Ky. – The National Fastpitch Coaches Association (NFCA) announced the 360 student-athletes from Division III to earn All-Region honors today, including Cal Lutheran junior softball standout Olivia Leyva.
A first time Third Team All-West Region honoree, Leyva earned regional recognition after locking up First Team All-Southern California Intercollegiate Athletic Conference (SCIAC) in 2017. This spring she led the Regals in every offensive category and finished atop the conference statistics in three categories (RBIs, triples and slugging percentage) and was second in batting average.
She was the starting third baseman in all 36 games for Cal Lutheran and led the way for the Violet and Gold in batting average (.373), at-bats (101), hits (41), doubles (10), triples (6), homeruns (6), RBIs (32), runs (23), walks (11), slugging percentage (.736), on base percentage (.419) and sacrifice flies (3) as well as in stolen bases (12) and defensively at the hot assists (90). Leyva added 40 assists at the hot corner and was part of three double-plays. She finished with 12 multi-hit games and seven multi-RBI games.
Leyva joins an exclusive group as the 44th All-West Region selection from CLU and is the 19th Third Team player recognized in program history.
In addition to her regional nod, the La Canada, Calif. native is a two-time All-SCIAC softball honoree as well as a two-time All-SCIAC women's soccer selection for the Regals.
In total, six student-athletes from the SCIAC were honored with a two on each the First, Second and Third Team. Claremont-Mudd-Scripps garnered a pair of selections while Cal Lutheran Chapman, La Verne and Pomona-Pitzer all had one apiece.
The CLU 2017 softball team finished 17-19 overall with a 14-14 SCIAC mark. Leyva returns to the diamond for a final season in 2018 with an opportunity to grow her list of accolades.
Release: NFCA All-West Region
CLU Instagram: http://instagram.com/clusports#
Softball Instagram: http://instagram.com/regals_softball/
CLU Twitter: https://twitter.com/clusports
Softball Twitter: https://twitter.com/CLUSoftball
CLU Facebook: https://www.facebook.com/clusports
Hashtags: #clusports #ownthethrone #goregals