Leyva Locks Up First Team All-SCIAC
CLU junior reels in second softball honor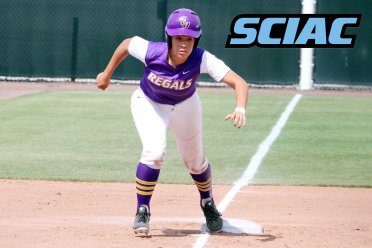 ALISO VIEJO, Calif. – Announced today by the Southern California Intercollegiate Athletic Conference (SCIAC), junior Cal Lutheran multi-sport student-athlete, Olivia Leyva locked up First Team All-SCIAC recognition in 2017 for the second league award of her softball career, becoming a four-time honoree with two career soccer selections as well.
The third baseman started all 28 conference games for the Regals and batted primarily in the three-hole with 10 starts as the cleanup batter while leading off twice. She accumulated a .402 batting average, which was second in the league, with a team-leading 35 hits, including eight doubles, four triples (to lead the conference) and five homeruns for 66 total bases and a .759 slugging percentage that was a league-best by more than 100 points. Leyva also drove in a SCIAC-leading 30 runs and scored 17 times, both team-highs as well. Additionally, she drew nine walks and finished with an on base percentage of .433. The speedy junior was a threat on the base paths, going 9-for-10 in stolen bases as well. Defensively, she posted 71 assists and 30 putouts at the hot corner.
Leyva notched 11 multi-hit games in SCIAC action, with five three-hit games and six two-hit showings. She drove in multiple runs in seven games with a season and career-best six-RBI game at Redlands when she hit three homeruns in a single game on April 15.
As a freshman in 2015, Leyva was a Second Team All-SCIAC softball selection and for the women's soccer team she is was a Second Team All-SCIAC honoree in both 2014 and 2016.
The SCIAC Athlete of the Year was Alexis Schiff from La Verne with Anna Gurr (Claremont-Mudd-Scripps) being selected as the SCIAC Pitcher of the Year. The SCIAC Newcomer of the Year also came from CMS as Ande Troutman earned the honor.
Overall, Leyva, who started all 36 games of the spring, led the Regals in all offensive categories including batting average (.373), at-bats (101), hits (41), doubles (10), triples (6), homeruns (6), RBIs (32), runs (23), walks (11), slugging percentage (.736), on base percentage (.419) and sacrifice flies (3) as well as in stolen bases (12) and assists (90).
Cal Lutheran finished the season with an overall record of 17-19 and a 14-14 SCIAC mark to tie for fourth place in the final standings.
Release: All-SCIAC
CLU Instagram: http://instagram.com/clusports#
Softball Instagram: http://instagram.com/regals_softball/
CLU Twitter: https://twitter.com/clusports
Softball Twitter: https://twitter.com/CLUSoftball
CLU Facebook: https://www.facebook.com/clusports
Hashtags: #clusports #ownthethrone #goregals