Regals Use Second-Half Surge to Defeat UC Santa Cruz
CLU scores three second-half goals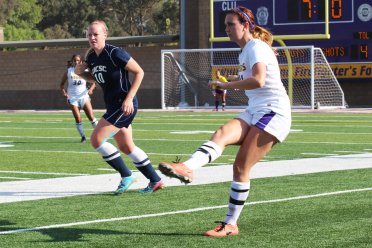 THOUSAND OAKS, Calif. -- The Cal Lutheran women's soccer team erupted for the three goals in the second half as it defeated UC Santa Cruz 3-0 in its final nonconference regular season game Sunday afternoon. Taylor Will opened the scoring in the 51st minute, collecting her fifth goal in the past three games. Bianca Deardorff scored her sixth goal of the year 11 minutes later and Kristina Hulse notched her Southern California Intercollegiate Athletic Conference (SCIAC) leading ninth goal of the season in the 85th minute. The Regals used 24 different players in the victory and pushed its win-streak to a season-high five games.
Both defenses shined in the first half with UC Santa Cruz turn back 10 CLU shots while the Regals yielded just five to the Slugs.
Cal Lutheran's best offensive chance of the first half came in the 15th minute when Willdribbled down the right flank and sent in a cross that Brittany Eremita heel tapped it to Deardorff. The freshman then took a dribble and shot but was blocked just before it reached the goal.
Kristin Bailey came up with a spectacular save in the 20th minute when Riko Goto broke loose from the defense and had a one-on-one but the CLU keeper came up with a diving save to keep UC Santa Cruz off the scoreboard.
Just six minutes in the second half, Will scored her eighth goal of the season when she fielded the ball just outside of the penalty box and her first shot blocked only to have the ball bounce right back to her and she curved in a shot for the game's first score.
In the 61st minute, Eremita found a streaking Deardorff down the right-sideline. Deardorff took the pass and cut left behind a UC Santa Cruz defender and sent in a bending left-footed shot that was just over the reach of the keeper and put CLU up 2-0.
20 minutes later, Sierra Duarte pushed a cross over from the left-sideline that Nicole Campbell narrowly headed wide.
The Regals would however get that third goal twenty minutes later when Katelyn Kimball found Hulse, who muscled past a defender and shape her shot around the keeper and into the back of the net.
Deardorff led CLU with six shots while Will and Katie Moyer each had three. Bailey finished with five saves and notched her fifth shutout of the season.
Chay Thomas fired off three shots in the losing effort for UC Santa Cruz.
With the loss, UC Santa Cruz falls to 7-4-2 overall.
Cal Lutheran (11-3, 7-1 SCIAC) will be back in action next Wednesday, Oct. 16, when it travels to Whittier to take on the Poets at 7:00pm.
Box Score: CLU 3 UC Santa Cruz 0
CLU Twitter: https://twitter.com/clusports
Follow Karly: @Karlyloberg00
CLU Facebook: https://www.facebook.com/clusports