Kingsmen Place 11th at Vanguard Invitational
CLU competes with So Cal Cross Country powers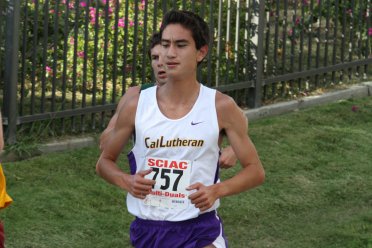 Costa Mesa, Calif. - The Cal Lutheran Men's Cross Country team traveled to Vanguard University this past on Saturday, where they competed in the 24th Annual Vanguard Invitational. The Kingsmen finished with a total time of 2:17:06.83 earning them 11th place amongst Division I, II and junior college challengers.
Leading the CLU squad was sophomore-junior duo Matt Garvin and Joe Privitelli.
Garvin was the top performer for the Kingsmen, crossing the finish line with a time of 26:59.31 and claiming 58th place. Privitelli trailed his teammate by one second, completing his day with a 27:08.70 earning him 59th place.
Garrett Baker followed close behind his teammates, crossing the finish line with a 27:43.56 mark which earned him 76th place.
David Avila (27:47.06) strode shortly behind Baker, finishing 79th on the day.
Ryan Perez (28:14.16) finished 83rd, Shawn Jackson (28:45.66) completed his day finishing 96th.
The Kingsmen will participate in their first Southern California Intercollegiate Athletic Conference (SCIAC) meet on Friday, October 18th, during the SCIAC Multi Duals. The meet will be held at La Mirada County Park in La Mirada, Calif. at 4:30pm.
Results: Vanguard Invitational
CLU Twitter: https://twitter.com/clusports
Follow Amanda: @webringinXCback
CLU Facebook: https://www.facebook.com/clusports