Regals Race at Vanguard Invitational
CLU finishes fifth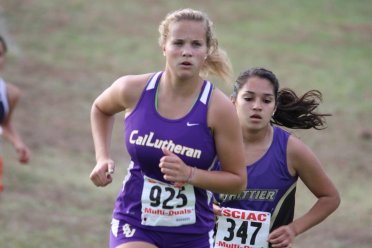 Costa Mesa, Calif.- The Cal Lutheran Woman's Cross country team and submitted a successful showing at the 24th Annual Vanguard Invitational on Saturday. The Regals placed fifth amongst competitors ranging from various Division I, II and junior college schools.
Senior duo Melissa Skiba and Ashley Freese carved the path for CLU, finding themselves in the top ten at the completion of the invitational.
CLU's top runner was Skiba. She led the Regals squad on the day, boasting an impressive 5:43 average mile equaling a 17:43.33 total time which was 10 seconds shy of the leader. Her sub-18 minute mark earned her a third place finish.
Freese trailed shortly behind Skiba, totaling an 18:18.38 mark earning her a tenth place finish.
Senior Natalie Bullock placed 32nd in the invitational, concluding her day with a final time of 19:09.48.
Junior Taelor Young completed her cruise shortly after Bullock with a 19:22.87 total time.
The freshman-senior duo of Sarah Parsons (19:53.55) and Amanda Miller (19:55.36) continued their solid side-by-side running, finishing 66th and 67th respectively.
Jessica Infald (20:20.96) finished 74th, followed by Chantal White (20:49.00), Kathi Kirkeby (23:34.95) and Kelsey Lewis (24:23.74).
The Regals will complete in their first Southern California Intercollegiate Athletic Conference Multi Duals match on Friday, October 18th in La Mirada County Park in La Mirada, Calif. at 4:30pm.
Results: Vanguard Invitational
CLU Twitter: https://twitter.com/clusports
Follow Amanda: @webringinXCback
CLU Facebook: https://www.facebook.com/clusports