Kingsmen Nearly Take Down Redlands
CLU falls 1-0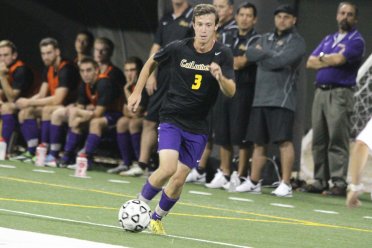 REDLANDS, Calif. -- The Cal Lutheran men's soccer team ripped off 19 shots against Southern California Intercollegiate Athletic Conference (SCIAC) first place Redlands but couldn't find the back of the net as the Bulldogs escaped with a 1-0 victory Saturday night.
Despite the barrage of shots, Jack Duncan kept CLU in the game throughout, coming up with seven saves on 24 Bulldogs shots.
The Kingsmen nearly broke through in the 33rd minute when Jimmy Carter, who was playing in his first game for Cal Lutheran, fired a shot on goal that Redlands goalkeeper Dylan Ochoa was able to deflect out of bounds for a CLU corner-kick. Salvador Orozco sent in the corner and Ivan Sanchez was able to get a foot on it but his shot sailed wide right and Redlands remained unscathed.
After finishing the first half tied at 0-0, Redlands got the eventual game-winner from Matej Kustara 15 minutes into the second half.
Nick Baldi, Jorge Galvan and Sanchez all got shots on goal in the final minutes but Ochoa came up big in the end, finishing with eight saves and help Redlands to a crucial conference win.
Sanchez led CLU with five shots while Logan Cone and Orozco each had three. Kyle Fleming had a shot on goal as did Thiago Gaglianone.
With the win, Redlands improves to 8-2 overall as well as in the SCIAC.
Despite the loss, Cal Lutheran (8-3-2, 6-2-2) remains in third place of the SCIAC standings. The Kingsmen will be back in action next Monday, Oct. 14, when it squares off with second-place Claremont-Mudd-Scripps. Kickoff in Claremont is set for 7:00pm.
Box Score: UR 1 CLU 0
CLU Twitter: https://twitter.com/clusports
Follow Tal: @KingsmenSoccer1
CLU Facebook: https://www.facebook.com/clusports