Bulldogs Snap Kingsmen SCIAC Win Streak at 28
CLU squanders fourth quarter opportunities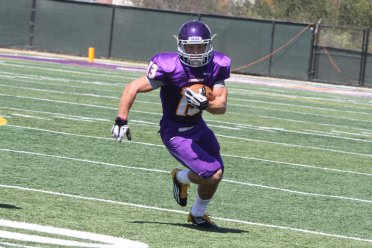 THOUSAND OAKS, Calif. – Redlands snapped Cal Lutheran's 28 game Southern California Intercollegiate Athletic Conference (SCIAC) win streak Saturday night, topping the Kingsmen 10-7 in a defensive struggle. Cal Lutheran had the ball inside the Redlands 30-yard line twice in the final six minutes but missed two field goals that would have tied the game.
"Give Redlands credit, they beat us to the point of attack," said Cal Lutheran head coach Ben McEnroe. "We missed some opportunities at the end and gave up some rushing yards so we didn't put ourselves in a position to win."
Cal Lutheran's defense had one its strongest showings of the year, limiting Redlands to 112 yards in the air and only 206 on the ground a week after the Bulldogs racked up 424 against Occidental. Kingsmen quarterback Cameron Deen was 15-of-23 for 167 yards and no interceptions but the Redlands defense held CLU to just 114 yards on the ground.
Redlands got on the scoreboard first when Chris Tanquary broke loose for a 22-yard gain and got the Bulldogs down to the Cal Lutheran 17-yard line. CLU would hold until third down before defensive back Chris Johnson broke up a pass in the end-zone on third down and forced Redlands to kick a field goal. Kevin Grady would connect on the 21-yard try and put Redlands up 3-0 with 5:13 left in the first quarter.
CLU had the ball for just six minutes in the second quarter. With under a minute to play, Deen found Andrew Worthley for a 12-yard pass and Thomas Asajie for 14 more on back-to-back plays but the Kinsgmen stalled at midfield as the clock expired, sending the teams into halftime with Redlands leading 3-0.
Redlands scored on their first possession of the second half with Tanquary running the ball on five of the seven plays during the drive. The sophomore then punched in a one-yard touchdown with 8:47 left in the third quarter to put Redlands up 10-0.
The Kingsmen finally broke through with eight minutes left in the fourth quarter when Wayne Chapman scored from a yard out. The score was set up by two catches from Justin Bloom that gained 28 yards. On first and 10 from the Redlands 14-yard line, Chapman bulldozed his way past two Bulldog defenders for a 13-yard gain, setting up his score a play later.
Following the kickoff, Tanquary fumbled on the very next play and the ball was recovered by Josh Bartley at the Redlands 40-yard line.
On Cal Lutheran's first play after the turnover, Deen hit Brent Stevens for a 35-yard pass that got CLU down to five-yard line. Chapman rushed for two yards on first down and another yard and what many thought was a touchdown but the referees ruled him down at the Redlands one-yard line. On third down, Deen fumbled the snap and suffered a two-yard loss.
The Kingsmen then missed a chance at tying the game when they missed a 20-yard field goal and gave Redlands the ball back at the 20-yard line with 6:24 left to play.
Redlands would drive to midfield before Nikolas Kessler made an acrobatic interception following a Kevin Russell scramble and throw, giving CLU the ball back with great field possession at the Bulldogs 30-yard line and 3:08 left in the game.
Cal Lutheran could only muster three yards on the first three downs before Sean Belotti trotted on for a 44-yard field goal attempt with a 1:16 left. Bellotti's kick had plenty of leg but the ball sailed left as CLU remained three behind Redlands.
The Bulldogs would run the rest of the clock out, giving them their first win over Cal Lutheran in five years.
Chapman led CLU with 59 yards rushing while Ryan Zirbel chipped in 37. Worthley had four catches for 25 yards while Bloom had three for 34.
Anthony Monroe was the top tackler for CLU, recording 12 total tackles including two for loss. Jhaylyn Hall and Logan Sanders were second with 5.5 tackles each.
Tanquary led all rushers with 29 carries for 161 yards. Russell was 11-of-17 for 112 yards with one interception.
With the win, Redlands improves to 2-2 and 1-1 in the SCIAC.
Cal Lutheran (1-3, 1-1 SCIAC) hosts Claremont-Mudd-Scripps next Saturday, Oct. 19 in its annual homecoming game. Kickoff is set for 1:00pm.
Box Score: UR 10 CLU 7
CLU Twitter: https://twitter.com/clusports
Follow Chris: @ccab9luball and Coach Mac: @CLUCoachMac
CLU Facebook: https://www.facebook.com/clusports
Tumblr: http://clufootball.tumblr.com