CLU - Redlands Preview
CLU hosts annual blackout game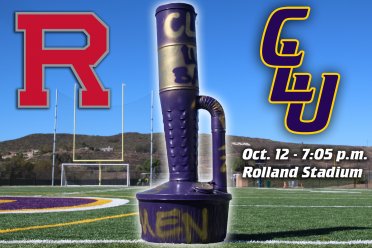 Game Info: This Saturday, Oct. 12, Cal Lutheran hosts the University of Redlands in its Southern California Intercollegiate Athletic Conference (SCIAC) home-opener. Kickoff is set for 7:05pm at William Rolland Stadium. Fans are asked to wear black with CLU designating Saturday's game as its annual blackout game. The Kingsmen will also be wearing black jerseys.
A New Tradition: A tradition that began in 2012, Cal Lutheran and Redlands will again play for the Smudge Pot, a perpetual trophy that celebrates the heritage and history of the citrus industries in Ventura and San Bernardino Counties. The winner of the annual game will be presented with the Smudge Pot and paint it in the respective colors of their University, holding the trophy until the next year.
In the winter of 2012, Paramount Citrus, headquartered in Delano, California, donated a retired smudge pot for use as the perpetual trophy. Smudge pots, also known as orchard heaters, were once used in the citrus industry to prevent frost damage to crops. Smudge pots have been replaced by smokeless heaters and wind machines in California orchards, and the Smudge Pot trophy symbolizes the importance of the citrus industry in the two regions of Southern California, and is a salute to the families of growers that keep the industry strong.
Series History: Saturday marks the 42nd meeting between the two teams with the Kingsmen holding a 23-18 all-time advantage. CLU and Redlands first met on the gridiron in 1965 with UR winning 9-6 in a defensive struggle. The series has been one of extended streaks, with Cal Lutheran producing the longest streak of nine consecutive victories from 1975-1983. The series saw Redlands win eight straight contests from 1996-2003. The Kingsmen have been victorious each of the past five seasons.
Last Meeting: Cal Lutheran traveled east to take on Redlands and came away with a 45-35 victory last season. The Kingsmen jumped on top 28-7 just before halftime after Ryan Zirbel hauled in a 54-yard double-reverse pass from wide receiver Frankie Jones and then Vince Minor returned a punt 43 yards for a touchdown.
The Bulldogs would mount a rally in the second half, pulling to within three at 31-29 after two Brad Crisanty touchdown runs. However, Cal Lutheran back-up quarterback Zach Shutlis willed the Kingsmen to victory by throwing two touchdown passes in the fourth quarter as CLU defeated the Bulldogs and took a giant step towards earning its fourth straight SCIAC title.
About Cal Lutheran: Cal Lutheran enters Saturday's fresh off its first win of the season, a 42-7 drubbing of Pomona-Pitzer.
The Kingsmen enjoyed breakout performances from quarterback Cameron Deen (6-4, 218 lbs.) and defensive back Matthew Arve (5-8, 160 lbs.). Against the Sagehens, Deen completed 74 percent of his passes while finding seven different receivers en route to throwing for 238 yards and two touchdowns. Midway through the second quarter, Deen completed a 60-yard pass to Justin Bloom (5-8, 175 lbs.) nearly from his knees as he was being pulled down by a defender.
On defense, Arve, who was playing in his first game for CLU, picked off two Pomona-Pitzer passes including one for a touchdown. The junior also racked up four tackles and broke up two other passes.
CLU running back Wayne Chapman (6-0, 205 lbs.) continued his strong debut season for the Kingsmen, rushing for 91 yards and two touchdowns last Saturday. Chapman added to his growing highlight-reel in the fourth quarter when he rushed left then cut back nearly the entire width of the field and outran two Sagehen defenders for a 24-yard touchdown.
Wide receiver Brent Stevens (6-1, 190 lbs.) and running back Daniel Azhocar (5-8, 175 lbs.) also scored their first touchdowns of the season in the second half.
Linebacker Bryce Henderson (5-11, 214 lbs.) led CLU in tackles with 8.5 while nose guard Elliot Reyes (6-2, 265 lbs.) was second with 5.5 including a sack.
About Redlands: Last Saturday saw Redlands get into the win-column for the first time in 2013, defeating conference foe Occidental 38-21. The Bulldogs rushed for 424 yards and pulled away from the Tigers after being tied at 21-21 midway through the third quarter.
Running back Bobby Brown (5-10, 195 lbs.) had a career game, rushing for 175 yards and two touchdowns on just 10 carries. Fellow backfield mate Curtis Tanquary (5-10, 200 lbs.) also eclipsed the 100-yard mark, rushing for 133 yards and a touchdown.
Quarterback Kevin Russell (6-1, 215 lbs.) made his first start under center for the Bulldogs against Tigers. Things started out precarious for Russell, throwing an interception in the first quarter that the Tigers returned 92 yards for a touchdown. The junior rallied however, finishing an efficient 11-of-16 for 148 yards.
Linebacker Michael Tootle (5-10, 215 lbs.) leads the Bulldogs with 28 total tackles while Steven Locke (6-2, 250 lbs.) is second with 22.
About the Coaches: Cal Lutheran Head Coach Ben McEnroe is in his sixth year at the helm of the Kingsmen football program, where he has compiled a 45-14 overall record. A former all-conference center for the Kingsmen, McEnroe joined his alma-mater 1993 as the offensive line coach. In 1998, he joined Division II Humboldt State, and in 2003, was named the head coach of Chaminade High School. After leading Chaminade to four straight CIF playoff appearances, McEnroe was named head coach of Cal Lutheran in 2006.
Since then, McEnroe has led Cal Lutheran to five conference titles in the six previous seasons, including consecutive Southern California Intercollegiate Athletic Conference championships in 2009, 2010, 2011 and 2012. After defeating Pomona-Pitzer last weekend, CLU has won 28 SCIAC football games in a row under McEnroe's direction.
Redlands Coach Mike Maynard is in his 26th season as the head coach of the Bulldogs. Maynard has compiled an overall winning percentage of .684 and has led Redlands to 10 SCIAC championships.
In 2012, Redlands finished second in the SCIAC with a 6-3 record. The year before, Maynard led the Bulldogs to their first playoff appearance in since 2007 after going 8-2.
Coach McEnroe on Redlands: After capturing its first win of the season last Saturday, McEnroe is hoping the success will continue this weekend, "The biggest thing we're carrying over is self-confidence. The energy at practice has been very good all week and it feels like this team is believing in itself and is looking forward to teeing it up on Saturday night."
With Redlands rushing for 424 yards last week, McEnroe knows CLU's success on defense starts with stopping the run, "There is no doubt they have one of the better rushing attacks we've seen with several talented running backs so we'll have to be gap-sound and gang tackle." He continued, "I anticipate them using some of the things PLU did to attack us so we know they're coming, it's our job to holdup and to counterattack, which we will."
A capacity crowd is expected with the perennial rivals squaring off for The Smudge Pot Trophy at 7:05pm. McEnroe acknowledged the distractions that come with hosting a big game, "When we get distracted or focus on the opponent, they win. When we focus on us, we've won."
The seventh year coach concluded with, "The rivalry piece is special because now we play for The Smudge Pot Trophy and nobody wants to be the team that gives it up. But that trophy has not been the emphasis this week."
"Redlands is not our emphasis. Our emphasis is us, and bringing great effort and energy on Saturday night."
Live Video
Live Stats
CLU Twitter: https://twitter.com/clusports
Follow Chris: @ccab9luball and Coach Mac: @CLUCoachMac
CLU Facebook: https://www.facebook.com/clusports
Tumblr: http://clufootball.tumblr.com