CLU Revs Up Defense in Victory over Oxy
CLU defeats Oxy 1-0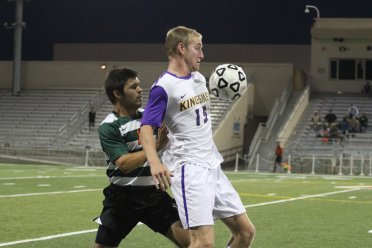 THOUSAND OAKS, Calif. – The Cal Lutheran men's soccer team pitched its seventh shutout of the season as it defeated Occidental 1-0 Wednesday night. The Kingsmen are now leading the Southern California Intercollegiate Athletic Conference (SCIAC) in goals allowed with an average of 0.62 per game. The conference win for CLU was crucial as the Kingsmen moved into second place in the SCIAC standings.
Both defenses flexed their muscles in the first half with CLU limiting Oxy to just four shots while the Tigers turned back several Kingsmen scoring chances.
CLU broke through in the 22nd minute when Bryce Truver fielded a pass inside the penalty-box and tried to spin but the Oxy goalkeeper took out his legs, drawing a whistle from the official and giving CLU a penalty kick. Alex Wardle was called upon for the second time in as many games for the penalty-kick and connected on a low-shot that hit the back right corner for the lone of the goal of the game.
The final twenty minutes saw the match turn physical with three yellow cards being handed out. Neither team saw many scoring opportunities down the stretch and CLU headed into halftime up 1-0.
Cal Lutheran's defense was the story of the second half, fending off five Tiger shots and goalkeeper Jack Duncan came up with two saves.
The Kingsmen nearly went up by two in the 57th minute when Logan Cone shook a Tiger defender but narrowly sailed the ball over the goal.
Ivan Sanchez made the defense play of the night in the 88th minute when Occidental's Michael Tonetti sent a sharp bending shot destined for the goal but Sanchez headed it out just in the nick of time and kept the clean-sheet for the Kingsmen.
Sanchez along with Nathan Davidson led the Kingsmen with three shots a piece. Kyle Fleming and Salvador Orozoco finished with two each.
Duncan finished with three saves and earned his fourth shutout.
Marcus Bradford and Tonetti led the Tigers with two shots.
With the loss, Occidental falls to 2-11 overall and 1-9 in the SCIAC.
Cal Lutheran (8-2-2, 6-1-2 SCIAC) will be back in action next Saturday, Oct. 12 when it travels to Redlands to take on the SCIAC-leading Bulldogs. Kickoff is set for 7:00pm.
Box Score: CLU 1 OXY 0
CLU Twitter: https://twitter.com/clusports
Follow Tal: @KingsmenSoccer1
CLU Facebook: https://www.facebook.com/clusports