Rogers to Play for Portland in AFL
CLU alum to get pro shot in Arena League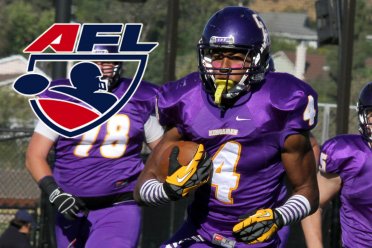 PORTLAND, Wash. – Portland is adding an Arena Football League (AFL) team, set to being action at the Moda Center in March 2014, which was announced earlier this week. Cal Lutheran alum Eric Rogers '13 will be a member of the inaugural roster as he agreed to terms with the yet-to-be-named team today.
The 6-foot-4 Rogers holds seven CLU records. During his four-year career for the Kingsmen, Rogers tallied 220 receptions for 3,461 total yards with 41 touchdowns. The 2012 SCIAC Offensive Player of the Year had a phenomenal senior season, hauling in 91 catches for 1,298 yards and 18 TDs before earning First Team All-West Region and All-America accolades. Last spring he signed with the Dallas Cowboys as an undrafted free agent and went through training camp with the squad this summer in Oxnard.
Yesterday, Matthew Sauk was named the head coach and today the organization added a rookie free agent class of six.
Joining Rogers are fellow wide receiver Dontel Watkins (Murray State), offensive linemen Max Jean-Gilles (Georgia), Jason Slowey (Western Oregon) and Aderious Simmons (Arizona State) and cornerback Coryell Judie (Texas A&M). Jean-Gilles and Medford each bring NFL playing experience while Simmons spent time in the Canadian Football League.
The AFL has been active since 1987 and has showcased a fast-paced and exciting game to millions of fans in a myriad of markets across the country. CBS Sports Network will broadcast an AFL National Game of the Week on Saturday nights for the entire season. The AFL schedule then culminates with the ArenaBowl Championship game pitting the American Conference Champions versus the National Conference Champions for the James F. Foster Trophy.
Website: http://portlandafl.com/
Portland Twitter: @portlandafl
Portland Instagram: @portlandafl
CLU Twitter: https://twitter.com/clusports
Facebook: https://www.facebook.com/clusports