Regals Escape in Overtime, Move into First Place
CLU wins 3-2 in Overtime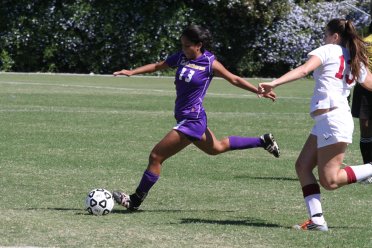 CLAREMONT, Calif. -- It was only fitting that Cal Lutheran and Pomona-Pitzer, the top two teams in the Southern California Intercollegiate Athletic Conference (SCIAC), went down to the final seconds Wednesday. Trailing Pomona-Pitzer 2-1 with fewer than two minutes left to play, Bianca Deardorff was fouled inside the box after the ball had been cleared and then Taylor Will converted the subsequent penalty-kick and forced overtime.
Then just four minutes into the extra period, Kristina Hulse tried to send a cross over but it actually deflected off a Pomona-Pitzer defender and into the back of the net as Cal Lutheran escaped with a 3-2 victory. With the win, Cal Lutheran takes sole possession of first place in the SCIAC after improving to 6-1 in conference play.
"This was a game where we didn't play our best but still found a way to win," head coach Frank Marino said afterwards. "Give Pomona-Pitzer credit, they played really well but we just came up with the plays we needed in the end."
The Regals got off to a rough start when they surrendered an own goal in the 37th minute. Cal Lutheran struggled for the rest of the half offensively, managing just three shots.
Cal Lutheran rallied after halftime and finally broke through in the 66th minute when Will rocketed a volley into the back of the net following a clearance by the Sagehen goalie.
The two teams were tied briefly however, with Nicole Quilliam putting Pomona-Pitzer back in front in the 71st minute after a give-and-go with Agueda Dudley-Berrios resulted in a goal from 12 yards out.
CLU came up unsuccessful on several scoring opportunities in the latter stages until Deardorff had a breakaway in the final minutes and was fouled by Taylor Fortson in the 88th minute. After Fortson was dealt a yellow-card, Will was successful on the penalty-kick, her second goal of the game, and forced overtime.
Riding the wave of momentum, Hulse was able to redirect a cross in the 104th minute past the goalie for the game-winner.
The Regals were outshot 17-10 but CLU goalkeeper Kristin Bailey came up with five saves. In addition to Hulse and Will, both Stephanie Gilbert and Bailey Marquez managed to get off shots.
Defender Anna Medler returned to captain the defense after missing the past two games. Medler, along with Chelsea Braudo, Mallory Carcich and Elena Rust combined to keep Pomona-Pitzer scoreless in the final 25 minutes.
Pomona-Pitzer forward Allie Tao led all players with six shots, putting three on goal.
With the loss, Pomona-Pitzer falls to 7-2-1 overall and 5-2 in the SCIAC.
Cal Lutheran (9-3, 6-1 SCIAC) will be back in action next Saturday, Oct. 12, when it hosts Redlands. Kickoff at Rolland Stadium is set for 1:00pm.
Box Score: CLU 3 PP 2 (OT)
CLU Twitter: https://twitter.com/clusports
Follow Karly: @Karlyloberg00
CLU Facebook: https://www.facebook.com/clusports