McLogan, Regals Take Down La Verne
CLU sweeps ULV 3-0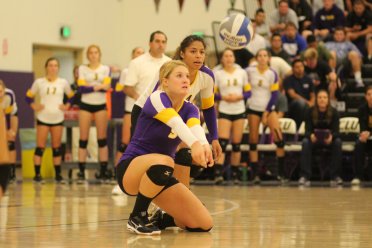 THOUSAND OAKS, Calif. – Fresh off moving up to No. 4 in the national rankings, Cal Lutheran got 18 kills from Kylie McLogan and swept Southern California Intercollegiate Athletic Conference (SCIAC) foe La Verne 3-0 (25-23, 25-22, 25-18) Tuesday night. The Regals trailed for significant portions in each set but held La Verne to just a .099 attacking percentage. With the win, Cal Lutheran improves to 18-1 overall which ties its best start to a season in eight years.
Cal Lutheran got in its own way to begin the match, tallying five attacking errors in the earlier stages. Trailing 18-16, head coach Kellee Roesel inserted setter Jena Chavez and outside hitter Caitlin Fransen and the Regals responded with a 4-1 run to take their first lead of the set. Leading 22-21, McLogan hammered down a back-court kill to give CLU a two-point lead and forced La Verne to call a timeout. McLogan followed the break in action with a service ace but La Verne rallied on the next two points to make the score 24-23. Cal Lutheran finally won the first set when Allie Eason pushed through a Leopard blocker for a kill and the decisive point.
La Verne jumped in front to start the second set before two kills from Eason, McLogan and Pua Mo'okini-Oliveira each put CLU out in front at 9-5. The Regals would go on to lead by as much as six at 17-11 but La Verne battled back to win the next three points and make it 17-15. The teams continued to exchange points with La Verne eventually pulling to within one at 19-18. Following a long rally, Leopards outside hitter Brittany Yaxley tied things up with a kill through two CLU blockers and then later took the lead on blast from the sophomore that made the score 21-20.
Fransen got things level again when she nailed an unsuspecting La Verne defender with a kill. On the very next, point McLogan gave CLU the lead for good at 22-21 with a kill. The Regals would induce two Leopard attacking errors to get to set-point and then following another Yaxley kill, took the second set 25-22 following McLogan's eighth kill of the set.
Like the first two games, La Verne took the lead at 8-4 to open the third set. Cal Lutheran climbed back into the game with a spike from Hayley Tamagni and a block from McLogan that tied things at 8-8. Neither team could separate itself from the other exchanging the next 12 points. Knotted at 14-14, McLogan spearheaded the CLU attack, coming up with seven kills and an ace serve down the stretch as CLU won the final set 25-18.
In addition to McLogan's 18 kills, Eason chipped in with 12. Jackie Russell led with 29 assists while Chavez dished out seven.
McLogan was a dig away from a double-double finishing with nine. Eason was second with eight and Kennedy Peters and Nicki Tetherow combined for 11. Lauren Rohach had four block assists against the Leopards as well.
La Verne was led by Yaxley, who finished with 13 kills.
With the loss, La Verne falls to 5-18 overall and 2-6 in the SCIAC.
Cal Lutheran (18-1, 8-0 SCIAC) is off this following weekend and will be back in action next Tuesday, Oct. 15, when it hosts Whittier. The match between CLU and the Poets is set for 7:30pm.
Box Score: CLU 3 ULV 0
CLU Twitter: https://twitter.com/clusports
Follow Kylie: @k_mclogan and Pua: @puamookini
CLU Facebook: https://www.facebook.com/clusports