Volleyball Jumps to No. 4 in AVCA Poll
CLU unbeaten in Division III play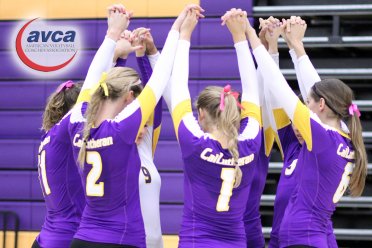 LEXINGTON, Ky. – With a 17-0 record against Division III teams, the Cal Lutheran volleyball team has jumped to No. 4 as announced the latest American Volleyball Coaches Association (AVCA) poll, released today. CLU sat at No. 5 between weeks two and four.
As one of the most well balanced teams in the country, Cal Lutheran has five different players with more than 100 kills thus far this season, led by junior Kylie McLogan (231) and followed by sophomores Allie Eason (170) and Pua Mo'okini-Oliviera (139) and seniors Hayley Tamagni (123) and Lauren Rohach (115). As a team CLU is hitting at a .276 clip and 15 different players have recorded at least one kill with Jackie Russell boasting a top hitting percentage of .462 with 34 kills in 65 chances.
Russell, a graduate student, has added to her CLU assists record with 585 this fall and Jena Chavez has handed out 164. Russell has accounted for a team-high 25 service aces while McLogan has chipped in with 24.
Defensively, Kennedy Peters has recorded 231 digs with Eason (193), McLogan (171) and Russell (123) also surpassing the 100-dig plateau as well. Rohach has a team-leading 39 blocks, one ahead of Tamagni with 39 and 38, respectively. Tamagni and McLogan have each tallied six solo blocks this season.
Cal Lutheran (17-1) is joined in the latest AVCA Top-25 poll by SCIAC rival No. 25 Claremont-Mudd-Scripps (12-3). Chapman (13-6) has also received votes this week.
Poll: AVCA Poll – Week Five
CLU Twitter: https://twitter.com/clusports
Follow Kylie: @k_mclogan and Pua: @puamookini
CLU Facebook: https://www.facebook.com/clusports